I grew up in Michigan thinking of State Parks as day trip destinations or places for a weekend camping trip, so I've always marveled when I've visited other state park systems that include cabins, resorts and conference centers.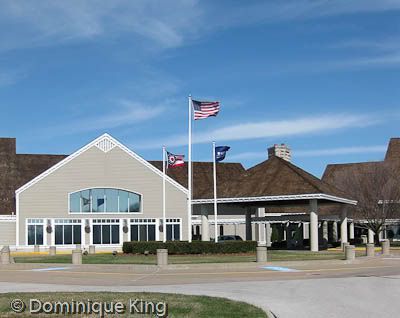 Seven of Ohio's State Parks offer resort accommodations, including a sprawling conference complex at Maumee Bay State Park a few miles east of Toledo, Ohio.
My first stay at Maumee came during a weekend conference with Ohio writers. This particular group booked the state park resort at Punderson in previous years.
Many of us loved the wooded and cozy atmosphere at Punderson with its vintage main lodge, but our growing group needed a more spacious meeting facility and room to accommodate more overnight attendees.
Maumee Bay Resort has multiple conference rooms, common areas and smaller sitting areas that accommodate larger groups, as well as smaller breakout sessions or more informal groups.
Maumee Bay's proximity to larger cities like Toledo and Detroit make scoring a room in the lodge or in a cabin at the park a tough thing to do at the height of summer vacation season—but the resort's convenient location does make it a desirable place for conferences that normally book well in advance and throughout the year.
The park's location also makes it a great place to stay as a base for families who can plan day trips out to attractions like the Toledo Zoo, Cedar Point Amusement Park near Sandusky and the massive Cabela's outdoor store in Dundee, Michigan.
Our conference is in early April, so it was a little cold to enjoy many of Maumee Bay's most family-friendly and outdoor activities like swimming in Lake Erie, enjoying the resort's outdoor pool, golfing, biking or seeing a show at the park's lakeside amphitheater.
I liked having a lakeside room overlooking the outdoor pool, especially since I had a lake view along with the quiet of the early spring season because swimmers were all at the indoor pool in April.
There are plenty of year round activities to enjoy at the resort, and the sunny spring weekend I was there proved perfect for a walk along the two-mile boardwalk at the nearby Maumee Bay State Park Nature Center.
Maumee Bay State Park is Ohio's newest state park, joining the system in 1975. The modern lodge building, designed to blend in with the park's natural environment near wetlands and Lake Erie, opened in 1991.
Xanterra Parks & Resorts manages Ohio's state park resorts. It is the same company that manages resorts, gift stores and other facilities at many park locations in the western U.S. like Yellowstone National Park in Wyoming and Mount Rushmore in South Dakota.
You can read about Xanterra, the company's commitment to sustainability and answers to the environmental concerns raised by the impact of tourism generated by its resorts in a comprehensive online report. The company's long-term environmental goals and the efforts the resorts make as they strive towards those goals make interesting reading.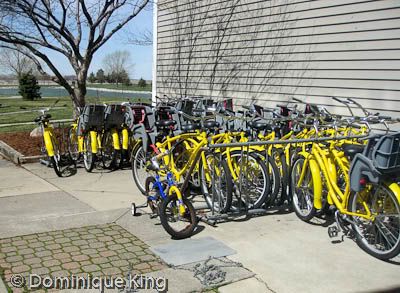 I have to admit I still miss Punderson Manor, with its storied history that includes its very own ghost. But I did like Maumee Bay Resort as an off-season conference destination, and I particularly enjoyed my afternoon spent hiking the park's beautiful boardwalk nature trail.
© Dominique King 2009 All rights reserved