I'm excited to be able to share this story by Wisconsin travel writer Julie Henning with Midwest Guest readers today. Thanks, Julie!
In the heart of Chicago's "Little Italy" neighborhood, the 44,000-square-foot National Italian American Sports Hall of Fame should be on every sport lover's itinerary—you'll have a hard time finding Vince Lombardi's playbook, Mario Andretti's "Indy Car", or Mary Lou Retton's 1984 Olympic regalia anywhere else in the Windy City.
Originally founded in 1977 by George Randazzo as the Italian American Boxing Hall of Fame, the organization has received support from athletes, coaches, business people, and members of the Italian community. Today, the state-of-the art building houses an impressive collection of sports memorabilia from over 200 exceptional U.S. athletes of Italian descent.
"Success in sports allows an ethnic group to have a great sense of pride in their community and a feeling of equality," said Terry Sullivan, owner of Walk Chicago Tours, a privately-owned walking tour company offering personalized tours throughout Chicago's diverse cultural neighborhoods. "The National Italian American Sports Hall of Fame showcases Italian-American athletes and their accomplishments. Sports afforded the immigrant class in Chicago a chance to preserve their nationalistic pride while they anxiously underwent their assimilation into new communities like Chicago."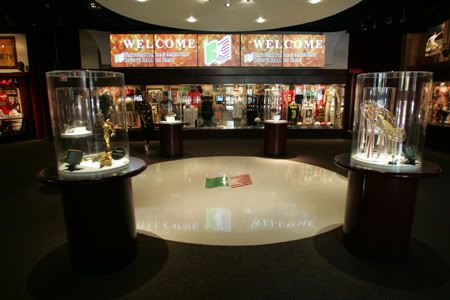 Unlike any other museum of its kind in the nation, the National Italian American Sports Hall of Fame is an experience to be had by anyone who believes in hard work, perseverance, and the American dream. If you enter the building from the main lobby on West Taylor Street, the Tommy and Jo Lasorda Exhibit Gallery holds the majority of the museum artifacts, including a five screen, 25 foot panoramic video tribute to the athletes inducted into the Hall of Fame. Take the grand spiral staircase to the second floor for more exhibits, including Mary Lou Palermo, five-time Roller Derby All-Star and 1951 league MVP.
In nice weather, leave time to visit the museum's fourth floor and the Salvatore A. Balsamo Rooftop Terrace. Available for special events, dinner parties, and receptions, the Chicago skyline is the backdrop with catholic churches, schools, parks, and all of Little Italy in birds-eye perspective. Across the street is the equally picturesque Piazza DiMaggio, a gift from the City of Chicago as an effort to revitalize Little Italy's Bishop Street area. A small gift shop featuring sports memorabilia, clothing, books and collector's items is located on the main floor by the reception desk.
A nonprofit organization, the museum has awarded over $6 million in scholarships to students from all backgrounds for their academic and athletic endeavors through the Second Wind and A Level Playing Field outreach programs. Read more about the local fundraising efforts here.
The National Italian American Sports Hall of Fame is located at 1431 West Taylor Street, Chicago, IL 60607. Museum hours of operation are Mon-Fri: 9AM-5PM and Sat-Sun: 11AM-4PM. Admission is $5 (adults), $4 (seniors), $3 (children 12 and under). Free parking is available in the adjacent lot off of Fillmore Street; the museum is handicap accessible. Call 312-226-5566 for more information.
Article © Julie Henning
Photos courtesy of the National Italian American Sports Hall of Fame
Bio: Julie Henning is the Feed Me and Geocaching editor for Road Trips for Families, a site for families who love the open road. An expert in family-friendly Wisconsin, she has written two iPhone apps, Madison Loves Kids and Milwaukee Loves Kids. A member of the Midwest Travel Writers Association, Julie is a regular contributor to her hometown newspaper in Sun Prairie, Wisconsin, where she lives with her husband and three young children.