Summer may be nearing its end, but things are heating up at the Arab American National Museum (AANM) in Dearborn, Michigan. The museum offers a hot musical menu and a taste of tropical style with its fall season of Global Thursdays concerts and a new exhibit featuring the fashions of famed Hawaii-based designer Alfred Shaheen.
 

Music for every taste
Organizers envision Global Thursdays as an extension of Detroit's annual Concert of Colors celebration of diversity and city pride. Global Thursdays, much like the Concert of Colors, brings music from around the globe to metro Detroit with the goal of celebrating diversity and developing unity through music.



Photo courtesy of AANM

The series kicks off September 9 with Jesus "Chuy" Negrete, who plays guitar and harmonica, as an early celebration of Mexican Independence Day (September 16). The talent of Negrete, the founder and director of the Mexican Cultural Institute in Chicago, as a story teller who shares the Mexican experience through words and music led author/historian Studs Terkel, no slouch as a story teller himself, to dub him "the Chicano Woody Guthrie".



Photo courtesy of AANM

Composer and violinist Riad Abdel-Gawad brings a unique style of Arabic music to the AANM on October 7. His music combines and integrates a variety of Western and Eastern musical genres-not fitting neatly into any specific genre, yet encompassing many of them at the same time. The native of Cairo, Egypt, is the premiere artist and musical educator in this music that preserves and protects its Arabic roots.



Photo courtesy of AANM

Composer/guitarist Sean Blackman merges music reflecting his own Armenian roots with the rhythms of Senegal and Brazil for the final concert of the fall Global Thursdays series on November 4. Blackman settled in Detroit specifically to work with the city's amazingly deep talent pool of the ethnic musicians, and this show promises to feature some of the best Detroit-area ethnic musicians. This sounds like an especially intriguing show for music fans interested in unusual instruments and sounds as it combines the sound of Blackman's nylon-string guitar with unusual instruments like the oud, kora, and kanun.
Tropical treat
Fashion fans are in for a real treat as a free reception prior to the Riad Abdel-Gawad concert on October 7 serves as a preview for Alfred Shaheen: Fabric to Fashion, an exhibit featuring dozens of vintage textiles, garments, and photos.
Shaheen, a Lebanese American engineer, is primarily responsible for popularizing the men's Hawaiian shirt, as well as developing many mid-20th-century textiles and technical innovations in the industry, according to AANM Director of Communications Kim Silarski.
"On the cover of his "Blue Hawaii" album, Elvis Presley wears a Shaheen shirt," she says.
Shaheen created garments using imported material in the years immediately following World War II, but quickly realized the economic and environmental wisdom of creating his own fabrics at home in Hawaii. Innovations like mass producing silk-screened textiles and production sewing techniques, plus an in-house training department, established him as a leader in the islands' industry.
"He did for clothing what Ford did at the Rouge, start to finish, designing and finishing his products under one roof," says Silarski.
Shaheen maintained his factory and production on Oahu, even as his company distributed his informal tropical styles reflecting Hawaiian, South Pacific, and Asian culture worldwide.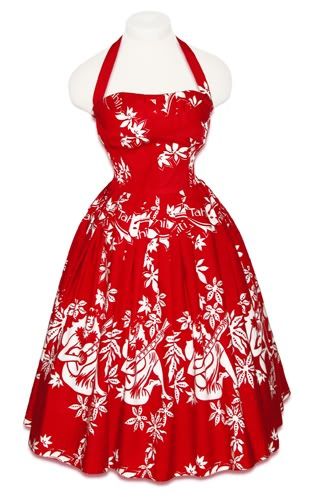 Photo courtesy of AANM
Those styles remain popular today says Silarski, who is a real fan of Shaheen's work.
"Shaheen vintage shirts and dresses go for hundreds on eBay," she says.
Don your best tropical attire and enjoy complimentary refreshments at the opening reception for the Shaheen exhibit at 5:30 p.m. on October 7. The exhibit runs through March 13, 2011 and is free with museum admission.
Tickets for each Global Thursdays concert are $10. Purchase tickets at the door, or order online in advance until 5 p.m. the day prior to each show.
Global Thursdays concerts begin at 6:30 p.m. in the AANM's 156-seat auditorium, which is on the lower level of the museum at 13624 Michigan Avenue in Dearborn, Michigan. Free parking is available in the lighted lot behind the museum.
Also be sure to watch the AANM site for upcoming events like the museum's annual film festival December 2-5.
Note: "Where I live" posts are part of a series of periodic stories about special events and people in, and around, metro Detroit. "Where I live" posts are stories I'll post in addition to my regular schedule of stories about attractions around the larger Midwestern region. I hope you enjoy reading them as much as I enjoy writing them.
© Dominique King 2010 All rights reserved