It was easy to imagine elegant ladies and gentlemen strolling along Scottwood Avenue past beautiful Victorian homes at the turn of the 20th century as we strolled that street earlier this month.
Scottwood Avenue, anchored by the colonial revival-style home of glass mogul Edward Drummond Libbey, is part of a twenty-five city block historic neighborhood in Toledo, Ohio unknown to many history and architecture enthusiasts. The neighborhood, however, notably contains one of the largest collections of intact late-Victorian homes in the United States.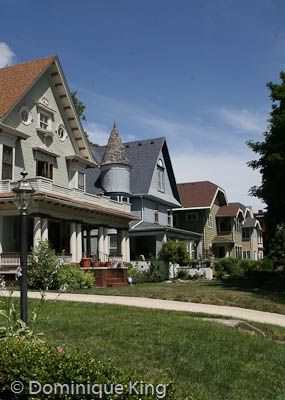 We first discovered the Old West End a dozen or so years ago when we decided to spend a weekend in Toledo.
We love staying at bed-and-breakfast inns, so the online listing for a B&B near the Toledo Museum of Art sounded like the perfect place to stay. The B&B we stayed in that weekend is regrettably no longer in business, but block-after-block of stately Colonial, Georgian, Italian Renaissance, Queen Anne, Dutch Colonial, French Second Empire and Arts and Crafts homes still line Old West End streets.
Settlers first began to build in the area during the early 1800s—first a log cabin or two, then a tavern and store by 1830. By the 1870s, the area became popular among affluent Toledo-area residents seeking to escape the core city. Major growth continued in the area until the 1910s.
Edward Libbey arrived in Toledo from Boston in 1888, where his family owned a glass company. Edward moved the company west to Toledo for the area's ready supply of natural gas, sand, strong transportation network of railroad and steamship lines, economical building sites, willing workers and less competition than out east. The Toledo-based Libbey Glass Company still manufactures and sells glassware, dinnerware and flatware for commercial clients and individual consumers today.
Edward Libbey married Florence Scott in 1890, and the couple commissioned architect David L. Stine to design a spacious home at 2008 Scottwood Avenue.
Perhaps the couple's most enduring legacy was founding the Toledo Museum of Art in 1901 within a block of their home—a museum today ranked among the country's top 15 museums and renowned for its comprehensive collection of glass from ancient to modern times.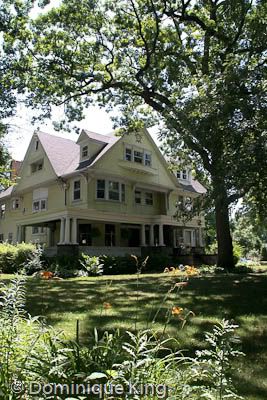 The Libbey House Foundation purchased the National Historic Landmark home in May 2008. A sign in front of the house says the group plans to open the renovated home to the public for receptions, historical interpretation and guest rooms for visiting artists sometime in 2009. The Foundation's Web site has a few photos of the home's interior, but no definite opening date for public tours and events.
The Old West End experienced a decline as the 1920s arrived. Highway construction during the 1960s decimated large swaths of the elegant neighborhood.
Old West End residents fought to keep the neighborhood viable. Part of the area joined the National Register of Historic Places in 1973 as an Historic District, which expanded in 1984.
By the time we discovered the neighborhood, it appeared to be undergoing a gentrification of sorts as newer residents worked to restore some of the homes to their late 1800s/early 1900s glory. Today it's possible to purchase one of these homes for as little as $80,000, according to many of the real estate listings I found for the neighborhood because of the housing market bust and foreclosure crisis, although the immediate neighborhood still looked well-kept and there were signs of a few renovation projects when we last visited the area.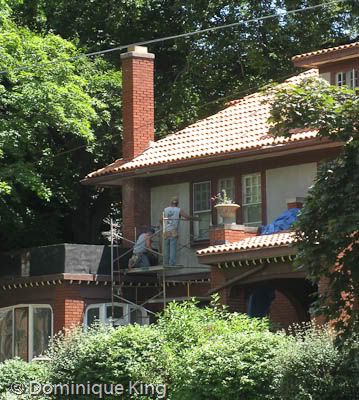 Toledo's Attic has detailed histories of a few of the Old West End homes and the Historical Old West End of Toledo site contains a lengthy list of links to historic photos of Old West End homes still standing and others long demolished.
The Old West End hosts a annual festival in June that features house tours, an art tour and a "King Wamba Parade". I'm sorry we missed this event, as the King Wamba Carnival Parade celebrated its 100th anniversary this year as a celebration of Toledo's short-lived 1909 Mardi Gras festival. Wamba today celebrates the neighborhood's cultural and ethnic diversity.

Want to learn more? Check out these books about Toledo's history, architecture, glass industry, and art museum:
Glass in Northwest Ohio by Quentin R. Skrabec Jr.
Toledo: A History in Architecture 1890-1914 by William D. Speck
Toledo: The 19th Century by Barbara L. Floyd
Toledo: The 20th Century by Barbara L. Floyd
Toledo Museum of Art (Maps & Guides) by Paula Reich
© Dominique King 2009 All rights reserved