Michael Jackson fans gathered at various places around the country, and even around the world, to remember the iconic music star in the wake of his sudden death on June 25, 2009.
Detroit's Motown Historical Museum served as an impromptu gathering place for many fans in the first days following Michael's death, and I remember seeing television footage of those fans singing his songs, sharing their favorite memories of him and watching a few Jackson impersonators trying to replicate some of the star's dizzying spins and dance moves.
Fans left hundreds of stuffed animals, with many of them wearing Jackson's single signature white glove, and other memorabilia outside of the museum to create a temporary memorial to Jackson.
What happened to all of those toys and other souvenirs?
You see it.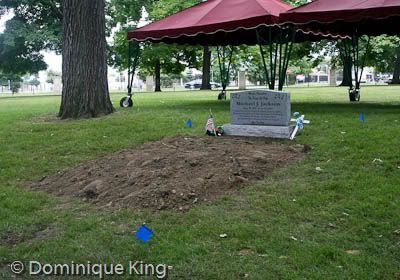 They gave the toys their own grave and headstone!
Detroit holds a special place in its heart for the kid from Gary, Indiana who wowed Motown exec Berry Gordy and snagged a Motown recording contract with his brothers.
Woodlawn Cemetery, 19975 Woodward Avenue southwest of Woodward's intersection with 8 Mile Road (yup, the same 8 Mile immortalized in Eminem's movie, 8 Mile) is the final resting place of many prominent people like civil rights activist Rosa Parks, David Ruffin of the Four Tops, the Temptations' Levi Stubbs, poet Edgar Guest and, in two cemetery donated plots, toys left at Motown in memory of Michael Jackson.
Private companies donated the vaults and headstone.
I initially wondered why the museum didn't donate the toys to needy children, but Tim said he heard that exposure to the weather for several days rendered the toys unfit as donations.
News stories say that Woodlawn officials suggested the burial to museum officials as a way to give area fans some closure, celebrate Jackson's close connection to Detroit and safely dispose of the items in a respectful manner.
Tim was driving in the area and spotted a procession with two hearses carrying the memorial items and a few cars entering the cemetery. He realized what he'd seen after listening to the news later that day (so you now know who to credit/blame for this blog entry).
We went back later to find the memorial site, which is a short distance in from the cemetery's front gate.
The Motown Historical Museum, which already proudly displays one of Michael's sequined gloves, kept a few of the memorial items to use in a planned exhibit honoring Michael Jackson.
Thanks to Debbie Dubrow of Delicious Baby for creating and coordinating Photo Friday to link travel photos and blog posts across the Web.
© Dominique King 2009 All rights reserved