Riding my bicycle around my suburban neighborhood is nice enough for a quick after-work trip, but I love making a day of it—taking my bike, a snack and a book or notebook on a trail where I can enjoy some great scenery and not have to worry about competing with cars for the road.
Riding the Betsie Valley Trail between Beulah and Frankfort in the northwestern part of Michigan's mitten is easily doable for casual bicycle riders and easily my favorite trail ride.
Betsie Valley Trail is flat and paved or a hard limestone-gravel surface for the 10 miles between the two towns, following the Betsie River (crossing it twice) and the shores of Crystal Lake for much of the route.
The first six miles of the trail out of Frankfort is asphalt and perfect for bicycles, roller blades or wheel chairs (the only motorized conveyances allowed on this stretch). The remaining trail is a compacted aggregate (gravel) surface and posed no problem for my hybrid Trek.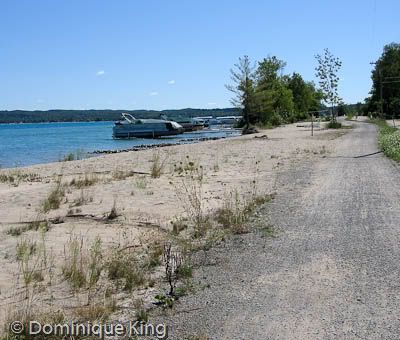 Stops along the way include a platform overlooking the Betsie River and, near the trail's terminus at Elberta, an Audubon Society-built wooden viewing platform overlooking wetlands where you might be lucky enough to spot some marsh birds like herons or ducks.
You might even be lucky enough to spot other critters along the trail, as I did one afternoon when I saw a large porcupine scurrying into the woods as I passed by.
The entire trail runs 22 miles from Frankfort through Beulah and on to Thompsonville, but I've yet to ride the trail between Beulah and Thompsonville because it wasn't entirely finished when I first rode the trail. I was also unsure how well my bicycle (and I) would handle that many miles of gravel and the gradual incline for the five miles out of Beulah south to Thompsonville. This stretch also becomes a snowmobile trail from December through March.
I start my trail ride at a parking lot in Elberta, riding to Beulah and returning to Elberta, with a side trip out to Frankfort and Lake Michigan, to complete my 20-mile trip.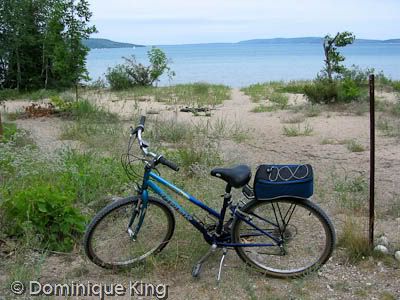 I particularly like the stretch of the trail that runs right by Crystal Lake—past some great-looking summer homes and at least one patch of beach where you can park your bike and cool off your feet with a quick wade in the lake.
Beulah marks the half-way point of my trip. The Beulah Trailhead and Visitor Center building is a replica of a former railroad station and a handy place to stop for trail information or a rest room.
My favorite stop for a cold ice tea, a snack and, on a hot muggy day, a few minutes in air conditioning is the Phoenix Café in downtown Beulah. This indie coffee house boasts a full menu of sandwiches and salads, WiFi and a bike rack right outside to park your ride.
Getting all the way back out to Lake Michigan entails weaving through Cannon Park and a series of connecting parking lots behind the businesses on Frankfort's main drag, but taking in the Lake Michigan view is a nice way to end the ride before returning the quick mile back to Elberta and the car.
© Dominique King 2009 All rights reserved