Living in Michigan's largely wild and remote Upper Peninsula means that some of those especially hardy residents have plenty of time to spin some fascinating yarns and tale tales—and perhaps no group is more adept at jokingly spreading the frankly fantastic stories about hunting, beer and, um, bodily functions and mishaps than the myths, the legends, Da Yoopers!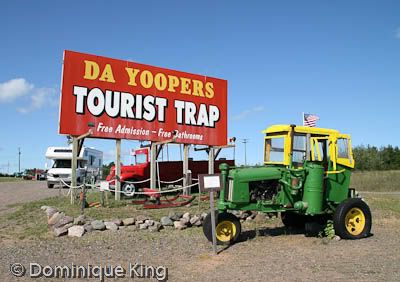 Capitalizing on the mythology of the scruffy woodsmen happily drinking beer and expelling gas as they replay an endless loop of exaggerated tales from hunt and deer camp, the comedy show and musical group parlayed their success with skits and funny songs about life in the Upper Peninsula into more than a dozen albums and one roadside attraction that is a must stop for those visitors cruising through the UP and Ishpeming on Highway US 41.
Billed on Da Yoopers Tourist Trap site as "one of the seven wonders of Yooperland", this stop offers all manner of exaggerated tourist tchotchkes, trinkets, knickknacks and whatever on display or, of course, for sale.
Want to get your picture taken with "Big Ernie", which Da Yoopers site bills as the largest working rifle in the world? Check out "Big Gus", reportedly the world's largest running chain saw? Or explore the wonderful world of two-holer outhouses and deer camp?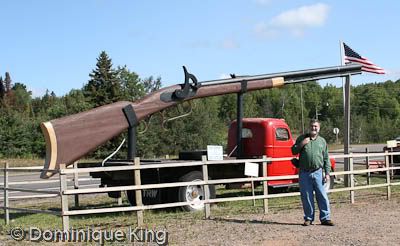 It's all here at Da Yoopers Tourist Trap!
While much of Da Yoopers' comedy focuses on flatulence and beer, the Web site hastens to remind folks that the Tourist Trap is definitely a classy pit stop, complete with two (count 'em), two flush toilets for travelers' use.
Step into the main gift store at Da Yoopers Tourist Trap and find all sorts of strange and cheesy souvenirs. We did manage to find the Upper Peninsula waterfalls guidebook we'd forgotten at home at the store, so you can find something more than miniature cedar outhouses or outsized beer mugs if you look hard enough.
My favorite section of the Tourist Trap was the Rock Knockers Rock Shop, where I found some beautiful polished rocks and minerals that ended purchased for my own collection or as gifts.
If you just can't make it to Da Yoopers Tourist Trap, there's always the online store where Web shoppers can select unique gifts like a Yooper Wind Chime made with beer cans, Elvis collectibles or a 21st Century Yoopers in Space double CD!
The site offers plenty more in the way of links to gleefully classless and goofy merch, jokes, doctored photos and more by way of illustrating Da Yoopers' version of life in Da Yoop.
I looked hard for a flatulence-free video relatively free of goofy gross-out humor. This was the best I could do, but search for "Da Yoopers" on YouTube and you'll find plenty of bawdy videos from the guys at their goofy and gross best, or worst if you will.   
© Dominique King