"Oh I'd love to be an Oscar Mayer wiener…" How many of us remember the words of that immortal song? Right up there with "My bologna has a first name…", right?
Better yet, how many of us remember the Wienermobile?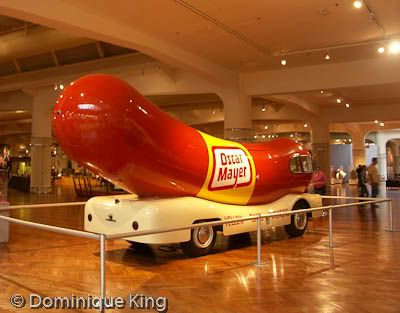 The quirky vehicle, shaped like a hot dog atop a bun, serves as a vivid visual advertisement for Oscar Mayer hot dogs.
The Wienermobile made its debut in 1936. Hotdoggers (Wienermobile drivers) continue to travel around the country in a half dozen modernized Wienermobiles promoting product and blogging about their travels online!
Here in the Detroit area, we can see a vintage Wienermobile any time by visiting The Henry Ford museum's 1952 Wienermobile. The Henry Ford's vehicle is reportedly one of the most-photographed artifacts at the museum and sits near a Wienermobile Café where museum visitors can grab a quick hot dog (what else?) snack.
You can find Wienermobile memorabilia at The Henry Ford to add to your collection, or you can check out this site to see one man's impressive collection of Wienermobile items!
Meanwhile, here are a few shots of the Wienermobile I took during our most recent visit to The Henry Ford.
Check out previous Photo Friday posts about The Henry Ford, featuring photos from Rock Stars' Cars & Guitars 2 and a vintage McDonald's sign, as well as my story at The Urbane Life about the Rock Stars' Cars & Guitars 2 exhibit.
Thanks to Debbie Dubrow of Delicious Baby for creating and coordinating Photo Friday to link travel photos and blog posts across the Web.
© Dominique King 2009