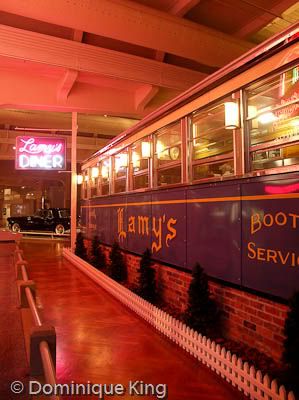 We have a membership to The Henry Ford in Dearborn Michigan, so we spend quite a lot of time out at the museum throughout the year.
It shouldn't be surprising to find, given The Henry Ford's name and connection to the automotive pioneer and founder of the Ford Motor Company, that the museum has an impressive collection of automobiles and exhibits related to the influence of cars on the national life and psyche.
The museum's "Automobile in American Life" permanent exhibit includes several of our favorite artifacts, like this 1940s roadside diner.
World War II veteran Clovis Lamy ordered a 40-seat diner from the manufacturer after returning home from his Army service. Clovis and his wife, Gertrude, took delivery of the custom car in April 1946 and opened to brisk business in Marlborough, Massachusetts.
Lamy found long hours as a diner owner meant less time with his family, so he sold the diner in 1950.
Customers deserted downtown diner cars for suburban chains and fast-food restaurants by the late 1950s.
The Henry Ford searched for such a diner as the 1980s arrived and, by 1984, an historian spotted a sale listing for Lamy's now-dilapidated original diner car.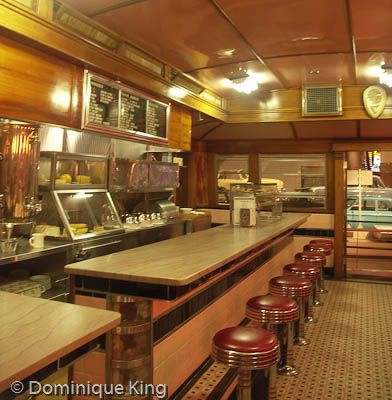 The museum purchased the diner and restored it to include it as a prominent piece of the collection.
Clovis and Gertrude Lamy visited the museum to view the diner at the 1987 opening of the "Automobile in American Life" exhibit. The Lamys agreed that the diner they so lovingly designed more than 40 years earlier looked like new, and an American Heritage Magazine article said that Clovis wept when he saw his beautifully restored diner at The Henry Ford,
The placement of the diner near a large vintage McDonald's sign seems a bit ironic, don't you think?
Thanks to Debbie Dubrow of Delicious Baby for creating and coordinating Photo Friday to link travel photos and blog posts across the Web.

Check out my previous Photo Friday featuring The Henry Ford's McDonald's sign.

© Dominique King 2009