We've known about a series of brass plaques and faded photographs honoring Michigan sports legends that line a couple of largely deserted hallways in Detroit's Cobo Hall for quite some time.
I took my camera to the North American International Auto Show earlier this year, and I took a detour to wander down the halls housing the Michigan Sports Hall of Fame (MSHOF) plaques on the way back to the parking lot from the auto show.
I snapped a few shots of the forlorn hallways, but the garish florescent lighting and faded posters didn't present an exciting photo opportunity.
Maybe it's fortunate that I did snap those photos, though, as the Michigan Sports Hall of Fame's plaques may soon no longer call Cobo Center their home. Plans call for the removal of the plaques whenever the convention center finally undergoes badly needed renovations.
Each two-foot-by-two-foot plaque weighs nearly 50 pounds. The halls housing the plaques since 1964 cannot hold all 270 of the organization's honoree plaques, and about 50 of them are already in storage.
MSHOF officials announced plans to offer the plaques to collectors at auction in order to finance their removal and create a more permanent and fully interactive shrine to Michigan sports heroes.
Finances create a challenge for the organization as it continues to seek a 30,000-square-foot home in downtown Detroit to house the hall. The group opted to discontinue creating plaques for new hall of fame inductees more than a year ago to concentrate on raising money for a modern sports shrine with sound, video and other interactive elements.
Finances also forced the MSHOF to indefinitely postpone their February 2009 dinner honoring 2008 MSHOF inductees that included: Flint Southwestern and University of Michigan football and baseball star Rich Leach; Detroit Red Wings co-owner and youth sports supporter Marian Ilitch; owner of the NHL Carolina Hurricanes and Junior Major Plymouth (MI) Whalers hockey teams Peter Karmanos; and NASCAR team owner Jack Roush. 
The group announced the planned plaque auction for June 15 of this year, only to postpone the proposed sale when state officials discovered that the Michigan Sports Hall of Fame's state license to solicit charitable donations and federal financial disclosure paperwork were not up-to-date.   
Critics questioned the planned auction and wondered if the MSHOF could continue to exist without definite plans for a physical location.
The MSHOF reportedly owes its genesis to the brain behind annual Michigan Week, which is a unified campaign to promote tourism in the state. Don Weeks, the Michigan Economic Development director who pitched Michigan Week to the state government in 1954, came up with the idea for a Michigan Sports Hall of Fame that same year with George Alderton, the sports editor of the Lansing State Journal. The two men came up the idea to honor Michigan sports figures and personalities during a conversation at a barbershop and passed it along to friends at Michigan State University.
Today, notices announcing the MSHOF postponed induction dinner and delayed auction remain on the group's Web site, and the link for the MSHOF 2009 mobile exhibit doesn't work.
Michigan, and Detroit in particular, has a great sports tradition. People here are passionate about their sports teams. When our teams and heroes do well, that acts as a powerful force to unite the state in pride and enjoyment—especially in tough times.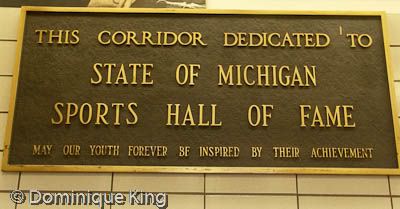 It's sad to see the plaques languish while their fate hinges on legal paperwork and a sorry economic climate. We can only wonder what happens, or doesn't happen, next.
© Dominique King 2009