I learned that the iconic Alexander Calder sculpture dominating downtown Grand Rapids in Michigan celebrates its 40th anniversary this year as I viewed a then-nearly completed exhibition about Calder and his work at the Grand Rapids Museum of Art (GRAM) late last month.
The special exhibition, Calder in the Collection: Fortieth Celebration of La Grande Vitesse, celebrates the 1969 installation of the sculpture and runs June 2 through August 30 this year at the GRAM. The exhibit showcases prints, gouache paintings, mobiles and stabiles by Calder already in the museum's collection, as well as a few new gifts coming to the museum.
The Pennsylvania-born Calder graduated school with an engineering degree, working different jobs for several years before a life-changing experience on board a ship where he briefly worked as a fireman in the boiler room. He awoke on the ship's deck when it was just off of the coast of Guatemala and saw a beautiful sunrise with a full moon visible on the opposite horizon. Calder always talked about this sight and dedicated himself to becoming an artist shortly after the experience.
Calder's early work as an artist during the 1920s took him to Paris, where he became fascinated with the circus and creating assemblages and sculpture using wire.
Meeting Piet Mondrian in 1930 and seeing the famous abstract artist work, Calder experimented with abstract painting and sculpture. By 1931, Calder added movement to his work by incorporating motors and cranks to move pieces and later simply creating mobiles that moved naturally with air currents. Many people best know Calder for inventing the mobile.
Calder's "mobiles" earned that designation from French artist Marcel Duchamp, while German-French artist Jean Arp dubbed Calder's non-moving pieces "stabiles".
During the 1930s, Calder began creating larger outdoor sculptures and created his first large sheet metal-and-bolt outdoor stabile late in that decade.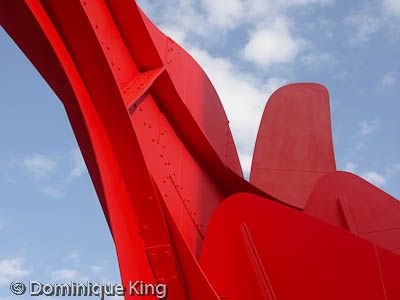 As metal became scarce during the war years of the 1940s, Calder turned his creativity to working with wood and wire and created smaller pieces using metal scraps salvaged from larger projects.
As the more prosperous years of the 1950s rolled around, Calder returned to concentrating on large-scale commissions until his death in 1976.
Grand Rapids' La Grande Vitesse (The Swiftness or Grand Rapids) comes from this later period of Calder's creative life and became the first public art funded by the National Endowment for the Arts (NEA).
Growing up, even in southeastern Michigan, I always associated the western Michigan city of Grand Rapids with "the Calder", as people more popularly know it in at least in the Grand Rapids area.
Calder used sheet metal, bolts and brilliant orange paint to create La Grande Vitesse, a stabile that measures 43' x 55' x 25'. A nearby 1/25th scale model version of the sculpture offers visitors a closer look at the impressive piece.
Standing beneath the bright orange Calder on a sunny day, the contrast between the stabile and the brilliant blue sky is particularly striking. It's no wonder that the structure looms large in the image and reputation of Grand Rapids.
I wasn't aware that Alexander Calder also designed jewelry until I heard about an exhibit of his jewelry on display at the Metropolitan Museum of Art in New York. I looked at Calder's beautiful and sculptural necklaces, bracelets, rings and pins at the Met Web site and wished I could see them in person.
You can then imagine my excitement when I learned that this exhibit of 100 of the more than 1,800 pieces of jewelry Calder created for his wife Louisa and friends like Georgia O'Keeffe and Peggy Guggenheim, among others, comes to the GRAM early next year!
Calder Jewelry runs at the GRAM January 29 through April 18, 2010. Think I can convince Photowanderer that we need to visit Grand Rapids early next year?
Much of the information here about Calder's life comes from a Calder Foundation site dedicated to the life and innovative work of this fascinating artist. This site is a must-see for those interested in Calder and the continuing work of the Calder Foundation.
Artistic and environmental innovation at western Michigan's GRAM
Finding a geocache hidden near La Grande Vitesse
© Dominique King 2009