The Sassy Cat stands guard over a park in the center of Chagrin Falls, Ohio. I've taken photos of this statue several different times, but this one with the beautiful forsythia in the background is my favorite shot.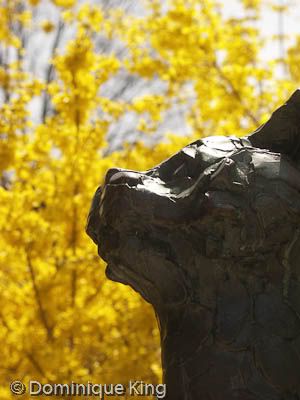 The Sassy Cat statue is a memorial to a woman named Marguerite Kelly, and the best that I can figure out is that The Sassy Cat was a gift and stationery store founded by Kelly.
Thanks to Debbie Dubrow of Delicious Baby for creating and coordinating Photo Friday to link travel photos and blog posts across the Web.
© Dominique King 2009