I've always thought of mute swans as beautiful, but notoriously aggressive. The Wiki entry for mute swans notes that they can be tame, but they can also be impressively aggressive with their large size, threatening wing spread and hissing at those who come too far into their territory or too close to their nests.
I've heard several stories about boaters who inadvertently came too close to mute swans and ended up furiously paddling to get away from the agitated birds.
One of my more memorable times witnessing aggressive mute swan behavior came when we stayed at a cabin in small lakeside resort in northern Michigan.
A group of supposed outdoor writers occupying a nearby cabin made the mistake of feeding the mute swans by the lake. All was well until the writers ran out of food and went back into their cabin. The still-hungry swans walked right up to the door and began pecking on the glass, to the point that we wondered if they might break it.
The writers, trapped by a group of angry swans, shouted up to us to come chase the swans away.
We knew better.
The swans eventually left, but I always remember that lesson in keeping my distance from these beautiful birds.
So, it was fun to spot these large "swans" gracefully swimming near the John Ball Zoological Garden as we drove through Grand Rapids, Michigan.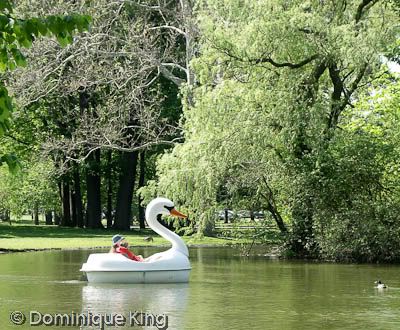 These large paddle boats are a seasonal ride offered on a pond in the park just outside of the zoo. We caught several duos enjoying the beautiful sunny day with a 15-minute paddle around the pond in these uncharacteristically well-behaved swans.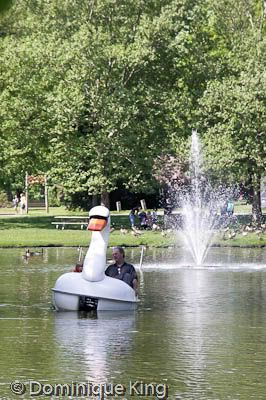 Thanks to Debbie Dubrow of Delicious Baby for creating and coordinating Photo Friday to link travel photos and blog posts across the Web.
© Dominique King 2009