I'm sharing a couple more photos from our recent visit to author and naturalist Gene Stratton Porter's home in Rome City, Indiana.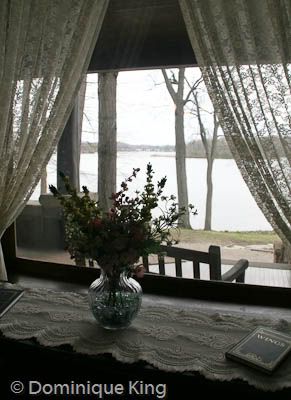 Gene treasured her time on Lake Sylvan and when she designed her home there, according to our tour guide at the site, she included what she called her "Million-Dollar window" in the parlor to best showcase the lake view.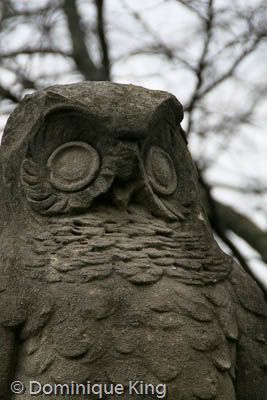 I also loved a pair of owl statues perched atop columns flanking the drive leading through the woods to the house, so I'm including this shot of one of those wise old birds.
Read more about our visit to the Gene Stratton Porter home in my story from last week, Indiana in bloom at Limberlost North.
We were fortunate enough to visit the home just as the wildflowers started to bloom in Gene's gardens. Check out a few more photos to see what's blooming at Limberlost North this spring in my Photo Friday post from last week.
Thanks to Debbie Dubrow of Delicious Baby for creating and coordinating Photo Friday to link travel photos and blog posts across the Web.
© Dominique King 2009