I planned to write about Gene Stratton Porter's home in northern Indiana months ago, but I couldn't find my photos from our previous visit there. The site joined my places-to-visit-soon list.
Then recently, we planned to go to Holland, Michigan to photograph flowers in advance of the Tulip Festival crowds. We planned to only stay one night, but weather reports called for rain and wind during the time we planned to drive across the state to Holland, so we changed course and headed a bit further south.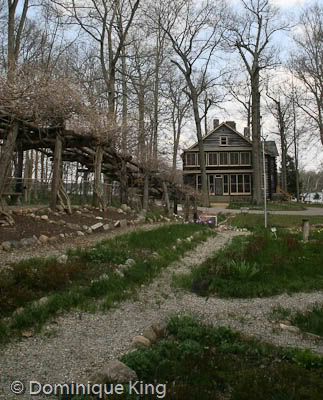 This was how I found myself back at the home of author and naturalist Gene Stratton Porter in Rome City, Indiana just as the wildflowers Porter loved and documented so well began to bloom this season.
I've always been a voracious reader, and my mom had difficulty keeping me in books to read. She had a couple of sisters to help her and between the three of them they managed to keep me in books. I think their best strategy was to find a prolific author who wrote many stories, so I ended up chewing through series of books by authors like Louisa May Alcott, Maud Hart Lovelace and Lucy Maud Montgomery.
I first heard of Gene Stratton Porter (another three-name byline author) as a young girl when one of my aunts or my mother started me on her series of novels mostly set in the woods and wildlife of Indiana.
You get a real feel for the woods, flowers and wildlife the author loved when visiting Gene Stratton Porter's "cabin" and northern Indiana woods.
Visiting the state historic site in late April, we found a profusion of flowers beginning to bloom around the grounds on scenic Sylvan Lake. Porter designed the two-story "Cabin in Wildflower Woods" as a retreat from urban life and increasing attention fame brought her as her novels like "Freckles", "Girl of the Limberlost" and "Song of the Cardinal" gained popularity during the early 1900s.
Porter's first love when it came to writing was penning her nature studies. Opinions vary as to why she began interspersing the release of her nature study books with sentimental novels. Indiana's government and state historic site says that it occurred to Porter to write the novels as a way to reach a larger audience with her nature writing. Our tour guide at the site during our recent visit said Porter began writing the novels at the behest of her publisher and begrudgingly agreed to do so if she could publish a serious nature study for each romantic novel released, a thought echoed by a biographical sketch of the author I found on the Web.
The home tour allows visitors to see how the author worked and to see how many different talents and interests she pursued, from writing and nature studies to photography and sketching to designing a modern turn-of-the-twentieth-century home with amazing, for a remote area in the early 1900s, conveniences like a private telephone and electrified lamps. I particularly loved the study where Porter wrote many of her books at a desk in the middle of a sunny room and facing a beautiful view of her beloved woods.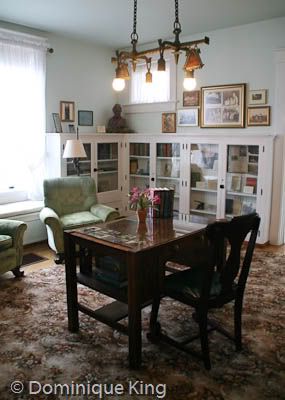 Porter wrote 12 novels, seven nature books and two poetry books, as well as other children's books and magazines articles. Hugely popular during her lifetime, and well after her death in an automobile/trolley accident in 1924 at the age of 61, Porter's stories reached even more people with a series of movies primarily produced from the 1920s through the 1940s.
Porter spent time during her later years working on film productions of her books in California and died there. Porter's family brought her home from her original burial site in Hollywood to her cabin, burying her with her daughter on the wooded grounds in 1999. A statue of a young girl, which reminded me a bit of the statuary I saw in Paris' Pere Lachaise Cemetery, marks the grave site.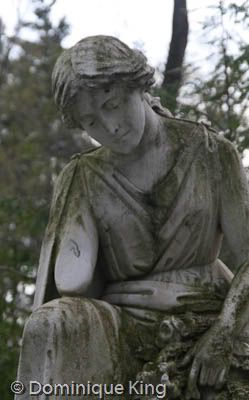 Guides at the home seemed genuinely enthused about sharing information about the amazing and forward-thinking Porter with visitors each time we've taken a tour of the site. Visiting the grounds is free, but the tour is worth the few dollars admission as it allows visitors to see the much of the cabin's interior and hear about Porter's life.
Visiting Porter's other Indiana home and the swamp that served as a setting for her books, Freckles and A Girl of the Limberlost, (about 75 miles further south and east of the Rome City home) are now definitely on my list of places to visit.
Check out this site for a good bibliography of Porter's fiction and non-fiction work, which includes links to free online versions of many of her novels.
Come back to Midwest Guest for Photo Friday this week to see some of the wildflower photos I took during our recent visit to the Gene Stratton Porter home.
© Dominique King 2009