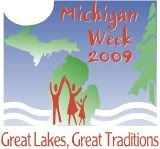 I remember Michigan Week when I was in elementary school. Each year, when that week in May rolled around, teachers invariably taught at least one of their classes to perform the classic "Tulips are blooming in Holland…Michigan" song for an all-school assembly.
If this You Tube clip is any indication, many Michigan school children still participate in this time-honored tradition—complete with the goofy dance steps!
Michigan Week originally began in 1954 as a way for various groups to promote the state in a unified campaign just before the beginning of summer tourism season. Don Weeks, then Michigan's Economic Development director pitched the idea to then-Governor G. Mennen Williams and the state legislature.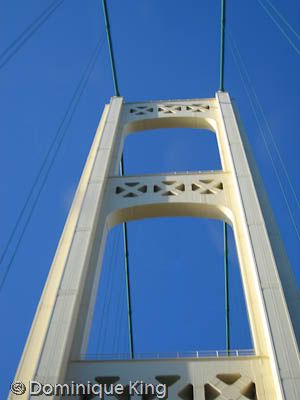 Weeks won governmental support for the special week, and a ceremony marking the beginning of work on the Mackinac Bridge to unite Michigan's two peninsulas marked celebrations of that inaugural Michigan Week 55 years ago.
Michigan Week continues as a mid-May tradition in the state to promote pride among residents and to celebrate the things that are uniquely Michigan.
Look for stories about some of my favorite Michigan places, including some of my favorite "Up North" locations, in coming months.
Meanwhile, I will spare everyone my dubious singing and dancing talents, forgoing an encore of the "Tulips" song in favor of listing some of my favorite Midwest Guest posts about Michigan.
Port Oneida Rural Historic District celebrates northern Michigan's agricultural heritage
Assembly line at Detroit Historical Museum
Walk through Detroit history at city's historical museum
Ann Arbor's University of Michigan Museum of Art reopens
Shay Locomotive moves lumber industry in Cadillac
Polar bears play at the Detroit Zoo
Paradise at Charles H. Wright Museum of African American History
Art and ice collide at Michigan's Dennos Museum Center
Motown magic comes out of the shadows one summer night
Motown makes major milestone (Motown's 50th anniversary)

Happy Birthday, Betsie! (Point Betsie Lighthouse 150th anniversary)
Down on Main Street, out on Woodward (Clawson's classic car show)
Car Crazy (classic cars cruise Woodward Avenue during Dream Cruise)
© Dominique King 2009