Sandusky seems synonymously linked with Cedar Point amusement park for many people. Driving north from Route 2 into Sandusky on Milan Road, where I passed numerous water park resorts, didn't do much to dispel the impression of Sandusky as one big over-chlorinated playground.
Driving west to get on Hayes Drive to head into downtown Sandusky, the landscape more closely resembled the northern Ohio port town along Lake Erie that city residents know as home.
I crossed Grant, Buchanan and Pierce Streets. I'm familiar with U.S. presidential history and Ohio as the birthplace of eight presidents, so I quickly noticed a pattern developing as I approached Taylor, Polk and Tyler Streets and headed towards Adams Street.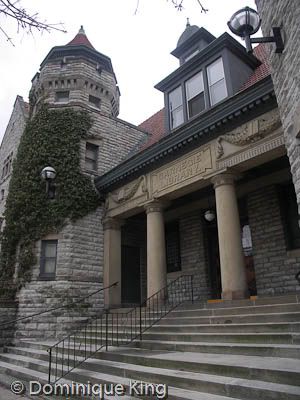 Once on Adams, I quickly found my destination, Sandusky's beautiful Carnegie Library.
I realize the library isn't the typical attraction that draws tourists to Sandusky, but knowing I'd be in northern Ohio for a conference, I'd surfed the Web for other interesting places to go in the area and stumbled upon the Sandusky History blog.
The blog, a Sandusky Library and Follett House Museum staff project, uses their collection of local history materials to produce a fascinating look at people, places and events throughout northern Ohio history. Recent articles include information about the library's ongoing series of programs exploring the 1930s, as well as articles about a 1920s community songbook published to encourage fellowship inspired by community singing and a story about Victorian era trade cards advertising patent medicines sold by Sandusky's Graham Drug Store—all illustrated by photos and paper ephemera from local history collections.
I also learned about the city's Carnegie library, funded through a donation from the Scottish-American philanthropist who made his fortune in the steel industry. Andrew Carnegie helped fund more than 2,500 libraries between 1883 and 1929. Carnegie libraries usually featured a then-innovative design with open stacks allowing people to choose their own books to read, as opposed to asking a clerk for books from stacks closed to the public.
Women in Sandusky organized a subscription library after receiving a donation of books and property from the city's Young Men's Christian and Library Association in 1870.  A $2 a per year library membership fee and a small millage supported the library, housed in a room at the city's high school and later in the local Masonic Temple.
Fundraising efforts resulted in enough money to purchase a home on Adams Street for $10,000 in 1898. Mrs. Jay O. Moss of Sandusky secured a $50,000 grant from Carnegie to fund the library, with the city pledging $3,000 per year to maintain the building. A permanent library on the site became a reality by 1901, making it one of the three earliest Carnegie libraries in Ohio.
In 1996, the library purchased the former Erie County Jail, an 1883-vintage building on adjacent property. A $10 million project renovated and connected the two buildings, both listed on the National Register of Historic Landmarks. A 2004 celebration rededicated a newly expanded library that went from 24,000 to 62,000 square feet, a building billed on the library's Web site as innovative and architecturally unique in its re-use of historic buildings.
I love cool architecture and renovation projects that imaginatively use vintage buildings, so I had to see this library while I was in the area.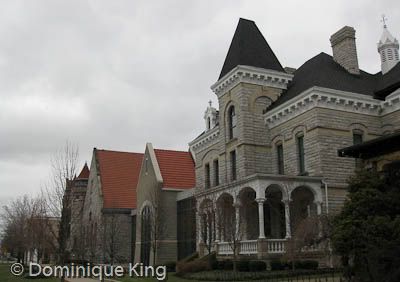 The complex takes up most of a city block and the exterior retains much of the stately character of the library's original turreted limestone building and the jail's ornamental Victorian architecture.
The library's interior with its vintage dark woodwork and high-ceilinged rooms felt surprisingly open and airy to me. The entire interior seemed to merge seamlessly into a cohesive whole with plenty of spaces for open stacks, computer stations and study areas.
It certainly isn't your typical Sandusky amusement park destination, but I enjoyed the artful restoration and learning a bit about Sandusky's history.
© Dominique King 2009