I'm not terribly fond of ants, but I didn't mind seeing these guys crawling along a wall in downtown Ann Arbor, Michigan.
Over the years, I've found a few spots tucked into Ann Arbor's downtown area where someone uses a little creativity to brighten a dingy alley. I spotted this latest gem of a monster-sized ant parade on an alley wall as we returned from the grand reopening celebration for the fabulous University of Michigan Museum of Art to our car parked in the Maynard Street structure around midnight last Saturday.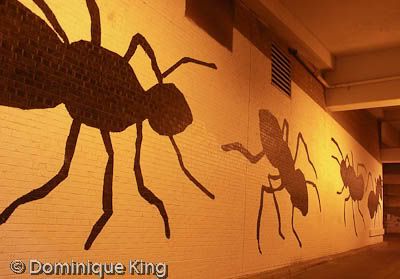 Thanks to Debbie Dubrow of Delicious Baby for creating and coordinating Photo Friday to link travel photos and blog posts across the Web.
© Dominique King 2009