We discover the most interesting things when we exit the freeway to take the slow way home from a trip.
We recently visited northeastern Indiana and decided to scout out a couple of other locations for future trips in the area just before crossing the state line to head home into Michigan.
Driving a road paralleling I-69, I spotted The Outlet Shoppes at Fremont. I'm not a big outlet shopper, but I wondered if the mall contained any athletic shoe outlets and drove into the parking lot of the mall's south section. This section seemed fairly new and not fully occupied, so maybe it was easier to spot the pickle placard hanging in front of a space billed as The Pickle Factory.
Dill pickles, sweet pickles, bread and butter slices, gherkins, hot peppers—we love them all. Although it's not like I hadn't just returned from a trip to Tony Packo's in Toledo Ohio, where I stocked up on Tim's favorite Sweet Hots peppers and pickles mix and some bread and butter pickles for me, we still had to stop and check out Sechler's pickle factory outlet store.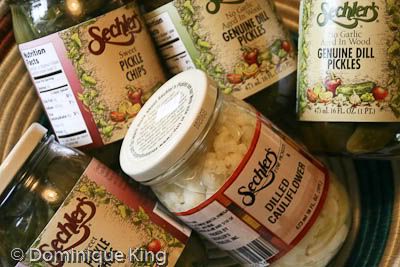 The store stocked plenty of pickles, condiments and other pickled products, but the real highlight of our visit was the pickle bar where we sampled a variety of tart dill and sweet pickles before making our selections.
You didn't think we would be leaving the store without still more pickles to take home and crowd into the cabinet already full of Packos' product, did you?
Sechler's No Garlic Aged in Wood Genuine Dill Pickles tasted tart without being too vinegary like some dill pickles. A couple of jars of the Sechler's Sweet Pickle chips joined those dill pickles in our basket, and we threw in a jar of Sechler's dilled cauliflower as something new to try at our next picnic.
Sweet pickles are a Sechler specialty, and the store offered sweet pickles to suit a variety of tastes for sampling. I'm not a huge sweet pickle fan, but I liked several varieties of Sechler's sweets because they lacked the cloying sweetness that you get with so many other sweet pickles.
Sechler's traces its origins back to 1914, when founder Ralph Sechler ran a pickle station in the small town of St. Joe in extreme northeastern Indiana. Sechler worked for D.M. Sears, hauling fresh-picked cucumbers in salt brine by horse-drawn wagon to the train station for transport to Sears in Fort Wayne. Sechler stopped out of the pickle business for college and the Army before returning to work for Sears in 1919.
By 1921, Sechler leased pickle stations from Sears to begin building his own business. His wife Anna hand-packed jars of product for consumer sales in the Sechler home kitchen until 1930, when the Sechlers moved their business into a factory housed in a converted barn.
A third generation of the Sechlers still owns and operates the family pickle business in St. Joe, Indiana. The current 60,000-square-foot Sechler facility includes the old Sechler farmhouse which first housed the business and now serves as an office.
The Sechler family emphasizes using the best of new techniques to enhance, rather than replace their time-honored way of producing product. Family ownership, family recipes and fresh ingredients remain at the heart of the company's success.
"We could make them faster, but that wouldn't make them any better" remains the company's tagline and philosophy of eschewing short cuts that might short-change customers by diminishing the quality of Sechler's products.
The pickle plant offers tours from April through October. It was already too late in the day to drive over to make a tour when we discovered the store, but the tour is certainly on our list of things to do next time we visit the area.
Meanwhile, fun stuff on Sechler's Web site includes a free downloadable recipe booklet in PDF format that features dishes like dilly pepperoni pizza, grilled cheese with dill pickle sandwiches and cranberry-orange pickle muffins—all using Sechler pickle or relish products.
And, for the curious, I did find my athletic shoe outlet store in the larger and more fully occupied north section of the Outlet Shoppes a block up the road.
Be sure to come back to Midwest Guest in coming weeks to read about our visits to Indiana's Auburn Cord Duesenberg Museum and Indiana author and naturalist Gene Stratton Porter's historic home site.
© Dominique King 2009