Detroit's growth, development, fortune and failures are inextricably linked to the city's automotive industry—and that fact may never be as evident as it is in today's tough economy.
The Detroit Historical Museum's Motor City exhibit draws attention as one of the museum's most prominent and popular permanent displays. The exhibit, according to the museum's Web site, shows "how cars built metro Detroit and how metro Detroit built cars!"
Opened in late 1995, Motor City follows Detroit's automotive history from the earliest days when inventive tinkerers began driving their experimental horseless carriages down city streets. It follows the city's rapid development as Henry Ford drew workers seeking a better life for their families to Detroit with his handsome offer of $5 per day wages for working on his Ford Motor Company assembly line through the rise of labor unions and on to modern innovations in the industry.
Many of us who live in the Detroit area owe our livelihoods in part, if not in whole, to the automotive industry. The fortunes of the city rise and fall with the fortunes of the auto industry, which in turn creates reverberations for good or ill throughout the region and often throughout the country.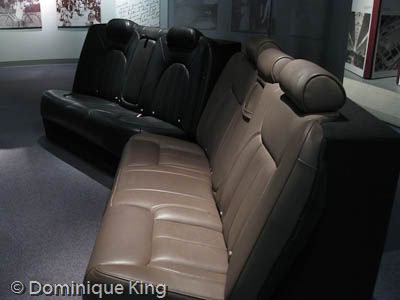 A small video theater on the exhibit's upper floor recycles old car seats as theater seats. The exhibit also includes a display of individual seats from various Detroit-manufactured vehicles, including a Mustang seat Tim worked on as an automotive engineer.
So, our visit to this particular exhibit one recent weekday afternoon proved a bit disconcerting for us as we relived some of the industry's glory days and wondered how history would treat the industry's present list of ongoing crises.
The assembly line component of the museum's Motor City exhibit includes body drop machinery from a former Cadillac assembly plant set into a re-creation of an assembly line, complete with in-process cars.
This portion of the exhibit is one of those vividly visual displays that appeal to visitors, especially groups of young school children.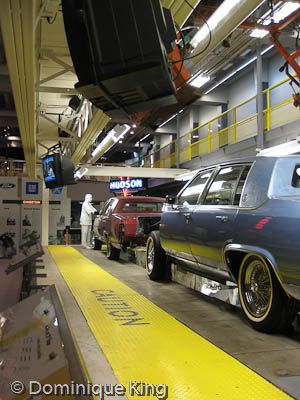 Now, I might be over-thinking things, but the thing that really struck me about this display was the ghostly all-white figures representing assembly line workers frozen in time along the motionless display. It struck me as an unintentionally eerie comment on the present state of the industry in the Detroit metropolitan area.
For a more upbeat take on our museum visit and photos of The Streets of Old Detroit, check out Walk through Detroit history at city's historical museum.
© Dominique King 2009