Two days in South Dakota barely left us enough time to hit a few high points around Custer and its wonderful State Park. And two days at the fabulous French Creek Ranch, with its beyond-bountiful breakfasts, left us hungry for another visit to Custer and more of innkeeper Diane's warm hospitality.
Tucked away from the hustle and bustle of the tourist town of Custer and the roar of highway traffic, French Creek Ranch offered a quiet retreat for us after busy days of touring nearby Custer State Park, the Black Hills, Mount Rushmore and the Crazy Horse Memorial.
We love the unique experiences offered by staying in bed-and-breakfast accommodations. French Creek Ranch offers the particularly unique experience (for city dwellers like us) of spending time at a working horse ranch that also welcomes equine visitors with stabling accommodations.
French Creek Ranch B&B is small in the sense that it only has three guest rooms in the main house, but house is expansive and offers an amazing array of amenities that include an in-house saloon, sauna, game and billiards room, wet bar and large sitting area. Guests enjoy a private patio for grilling and picnicking just steps away from outdoor activities on the ranch like horseback riding and fishing.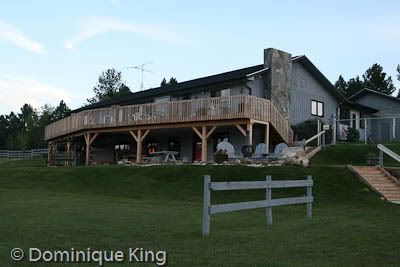 French Creek also welcomes guests traveling by RV with level sites featuring complete hook-up facilities.
One couple staying in their RV at French Creek Ranch during our visit served as assistant ranch hosts through a work-and-travel program, helping the innkeeper with ranch chores and helping visitors make the most of their time in the area. Their advice steered us to driving the Needles Highway, where we took some of our best photos of our trip.
French Creek Ranch proudly eschews the fussy Victorian décor found at some B&Bs for a sophisticated take on ranch living featuring Western and Native American furnishings and artwork. We settled into our Cowboy Room, which fully lived up to the promise of "refined but rustic" furnishings with its comfortable lodge-pole bed, Western theme decor and scenic countryside view.
Diane also offers a small selection of regional artwork and craft items from local artisans for sale, like the lucky iron horse shoe and cross combo that now hangs over the doorway of our family room.
As fabulous as the house and ranch are, the hospitality at French Creek rates as its best feature.
Days start with a breakfast beyond belief for someone like me, who usually makes do with an ice tea, a carton of yogurt or a couple of cheese sticks for breakfast at home. When the Web site advises guests to come hungry for a "full breakfast", believe it!
Diane's breakfasts feature entrees with Southwestern flavors like breakfast enchiladas or migas (a scramble with eggs and tortilla strips or chips), in addition to fruit or pastries and bottomless cups of coffee or tea. The breakfast table also featured an easy conviviality where Diane chatted with guests as she bustled around her kitchen and her RV camper hosts helped us plan our day.
We'd originally stopped in South Dakota for a couple of days at the end of a trip out to Wyoming and Montana with the intention of checking out the area as a possible destination for a longer stay in the future.
After visiting French Creek Ranch, we can't wait to return to the ranch's warm Western embrace and again experience Diane's generous spirit and beyond bountiful breakfasts!
Related Stories
Begging for attention – wildlife at South Dakota's Custer State Park
Mount Rushmore memorializes larger-than-life presidents
© Dominique King 2009