We visited the Detroit Zoo the other day thinking we'd see the BBC Wildlife Photographer of the Year show and take a peek at a few of our favorite exhibits like the Arctic Ring of Life habitat on the way to the aviary and butterfly house with our cameras.
We've visited Detroit's Arctic Ring of Life many times—always with the hope of catching a glimpse of one of the polar bears as they swam overhead while we walked the exhibit's clear, underwater tunnel leading though the 300,000-gallon aquatic environment.
We experienced a real treat during our last visit.
The underwater tunnel is usually crowded during warmer months, but winter months mean fewer visitors and a chance to linger a bit longer at popular exhibits.
We lingered in the tunnel and started snapping a few photos as a lone bear appeared in view.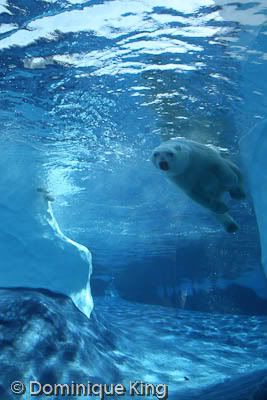 But this day, instead of a catching a fleeting glimpse of a passing bear, we had chances to take plenty of photos as the bear decided to stick around.
The Arctic Ring of Life's underwater environment is home to seals, as well as polar bears, with both populations separated by a partition that prevents the polar bears from preying upon the seals.
This day, we watched with rapt attention as our equally enthralled polar pal peered at the seals through the clear partition—looking as if she was watching a particularly engrossing program on a really large screen television!
The seal show held the bear's attention for quite a while, but her attention eventually waned after repeated attempts to join the seals on the other side of the partition.
Just then, a polar playmate appeared for our lonely bear.
The two bears engaged in a wary ballet as they circled each other before engaging in a bit of spirited roughhousing.
By this time, I was grateful that I had a large-capacity memory card in my digital camera as I snapped shot after shot of the playful bears.
One of the zoo docents appeared in the tunnel to tell us a little about the bears and this relatively rare show of extended playfulness.
The first bear we saw, the cub so enthralled by the seals, was a 600-pound 4-year-old named Talini. Talini's mother, Barle, came to the Detroit Zoo in 2002 after rescue from a circus where she constantly lived in tropical temperatures without access to a place to swim or roam. Barle gave birth to her cub in 2004. The cub became Talini after a zoo-sponsored contest to name her.
Talini's playmate the day we saw her was one of the two visiting bears from the Como Zoo in St. Paul, Minnesota. The Como Zoo bears, 12-year-old twins Neil and Buzz (named for Apollo 11 astronauts Neil Armstrong and Buzz Aldrin), arrived in Detroit for a two-year stay in May 2008.
The twins quickly acclimated to their new temporary home in the Motor City as work continued at Como Zoo on a new home habitat for them. Plans for the new polar environment in Minnesota call for a dramatic increase in space for the bears with plenty to room to swim, forage and fish.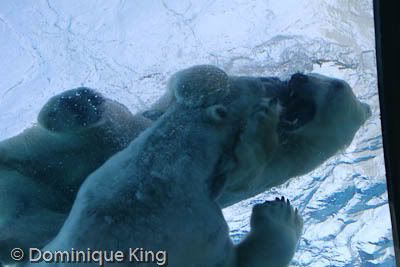 Our docent wasn't entirely sure which of the twins was playing with Talini that day, but said that the cub enjoyed playing with the older bears. She wasn't afraid of roughhousing with them, playing with them much she might with older brothers.
Our docent also explained that once Talini's new pals return home to Como Zoo in 2010, she may be mature enough for the Detroit Zoo to seek an appropriately aged mate for her. Perhaps that means there are more polar bear visitors in the Detroit Zoo's future.
The bears' play session came to an end, and we reluctantly left the exhibit.
We'd fortunately gone to the BBC photo exhibit first as we've seen it in past years and knew it was not to be missed, but we never made it to the aviary or butterfly house that day. That just leaves us with yet another excuse to visit the Detroit Zoo very soon.
Check out tomorrow's Photo Friday for more photos from this visit with the polar bears at the zoo.

Related stories
Photo Friday-winter at the zoo
BBC Wildlife Photographer of the Year exhibit at the Detroit Zoo
© Dominique King 2009