There are some things you like to try before you buy, but Tim found himself high and dry when he went shopping for a canoe last year.
We bought our first canoe, one of those heavy aluminum boats, after a friend saw it with a "for sale" sign at a curb in front a nearby house. We later sold that canoe by putting it in front of our house with a similar sign on it and waiting until a young couple came by and bought it.
I remember going to open paddle days with Tim as nearby outfitters converged on a local park where potential canoe and kayak customers could paddle the product around a lake or river before deciding which boat suited them best. We bought a small fiberglass solo canoe and a larger tandem canoe over the years after first trying out boats on the water at similar events or on a river at a local outfitter store close to home.
Local outfitters with a great selection of canoes and open paddles where customers can try a boat before they buy a boat are difficult, if not impossible, to find around the Detroit area these days. The local outfitter where we bought our fiberglass solo and tandem canoes closed long ago, and outfitters here now seem to carry mostly kayaks with no opportunity to take the boats for a test float.
So, when Tim decided he wanted another solo canoe, he turned to his Piragis catalog.
Piragis is an outfitter and catalog company based in Ely, a small town in northern Minnesota near the Boundary Waters Canoe Area Wilderness (BWCAW).
Now, we're not entirely unfamiliar with Piragis and the BWCAW.
Our last visit to the area occurred during the infamous Fourth of July Blowdown in 1999, a widespread storm that fell 600 square miles of forest and caused $3 million in damage in Minnesota.
We'd just visited Piragis to pick up two canoes we'd rented for a week's visit to the area. We strapped the boats to the top of our Mercury Mountaineer and began driving to the nearby Blue Heron Bed & Breakfast, when a furious rainstorm started and straight line winds threatened to blow our rented boats away into the wilderness.
We, and our rented boats, survived the drive and we had a great trip after the storm subsided and the power gradually came back on in the area.
We've purchased small things from Piragis' catalog over the intervening years, so Tim felt confident about the Minnesota company when calling their canoe experts to purchase this latest boat.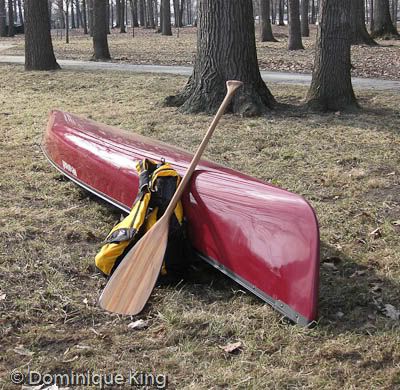 Steve at Piragis suggested a Wenonah Wilderness in Kevlar Flex lay-up to Tim, saying that it met his desire for a lightweight and stable boat to handle the paddling Tim likely wanted to do on lakes and quiet rivers in our area.
Tim selected the color and features he wanted on his Wenonah and prepared to take delivery on his custom-built boat.
Waiting for a truck from Fed Ex or UPS, or the local mail carrier, to show up at the door with Tim's canoe wasn't what Piragis had in mind, though.
Piragis employs a somewhat unique delivery system for canoes going outside of their local area. As Tim's boat became ready for shipment, the folks at Piragis posted a notice on a board at the store where customers headed home from their own BWCAW trip could sign up to deliver canoes to customers who could not make the trip to pick up their new canoes.
Steve told Tim the company experienced better results with fewer canoes damaged in transit by offering customers the opportunity to make a little money by relaying boats to their ultimate delivery destination.
It might seem a bit fitting that it began raining as we drove a couple of hours out to Ionia, Michigan to pick up Tim's new canoe from the fellow who ferried it down from Ely. Fortunately, we didn't have to contend with the high winds that we experienced the first time we picked up canoes from Piragis.
Steve's advice on buying the Wenonah was spot-on for Tim, with the boat being fun to paddle and easy to handle because of its light weight.
The Wenonah is also easy to handle when it comes to storage. I have what most folks might call a 1-1/2 car garage, but now it's really a 3-canoe garage with barely enough room for one of the cars and our bicycles!
© Dominique King