Geocaching is one of our favorite excuses to get out of the house for a short day trip, or to get off the well-worn tourist trail when we're out of town. We've enjoyed plenty of geocaching adventures over the past couple of years, and regular Midwest Guest visitors may remember Sleuthing with Nancy Drew—where our geocaching adventures included learning about the first author of the popular Nancy Drew series and discovering a tribute to "Buffalo Soldiers" and Spanish American War vets.
Geocaching is basically a treasure hunt where cachers use computers and Global Positioning Units (GPS) to find caches hidden by fellow hobbyists. Your GPS and the coordinates marking hidden cache locations head the list of things you need to take on a successful caching trip.
The well-prepared geocacher carries a few other items that make life on the hunt a little easier or successful. The folks at Geocaching.com suggest water, food, extra clothing, maps and a compass as essential items to take on a geocaching outing.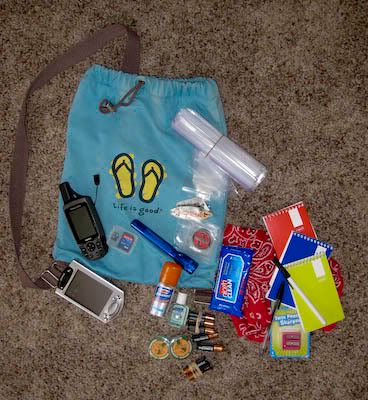 We keep a small day pack filled with our geocaching necessities to simply grab and take with us as we search for caches. Here are some of the items that make our life easier on the hunt:
PDA (Personal Digital Assistant)

Use instead of paper printouts to store downloaded geocache coordinates and descriptions from www.geocaching.com—a.k.a. paperless caching.

Extra flashcard for GPS

Small flashlight

Handy to hunt for caches in dark hiding places. We especially appreciated having a flashlight in our pack when we searched for a cache hidden in a dark railroad tunnel

Small camera

We often take photos of interesting caches or nearby places and upload them to our profile at www.geocaching.com

Extra batteries

Plastic zipper-close bags

Use to replace worn bags protecting cache contents

Travel bugs, coins or other trackable items

Geocachers help move trackable items like coins or small items with an attached tracking tag from cache to cache, recording these hitchhiking items' travels so item owners can enjoy tracking their travels. Some trackables have a specific mission, others simply want to move from cache to cache and record as many miles traveled as possible.

Insect repellent

Hand sanitizer or moist wipes

Extra notebooks

Geocachers usually record their visit to a particular cache by signing a small logbook in the cache. When we find a cache with a filled book, we'll often tuck a new notebook into the cache so those who visit after us can continue to record their finds at the site.

Pens

Pencil sharpener

Some caches include pencils to use for signing the cache's logbook. The pencils occasionally need sharpening.

Compressed towels

These tiny items are handy for any number of tasks, including wiping down the inside of a damp cache.

Bandanas

I use bandanas as towels, headbands, napkins or tied into a small carrying pouch for items I don't want to lose in the bottom of my bag or pocket.

Geo swag

Small toys or other tchotchkes that we sometimes leave behind in a cache as a small gift for subsequent cachers at the site.

Small First Aid kit

Magnifier

Tweezers

I bought a small magnifying glass with tweezers that fit inside of the magnifier's handle. The magnifying glass can come in handy for reading the sometimes microscopic tracking numbers on a travel bug, and you can use the tweezers for tasks like retrieving a tiny paper log sheet jammed into a micro-cache container.
What makes your life easier or more enjoyable as you geocache? Can you suggest any additions to my list?
© Dominique King 2009