Growing up in the Detroit area meant having a life soundtrack studded with tracks from an amazing array of Motown talent like the Miracles, the Supremes, the Temptations, the Four Tops, the Vandellas and the Marvelettes, among others.
It's easy to take that musical heritage for granted when it's an integral part of your life, but Motown's upcoming 50th anniversary makes me pause and appreciate just what a special gift Berry Gordy Jr. bestowed on Detroit when he established Tamla Records in 1959 with an $800 loan from a Berry family savings club.
Motown kicks off a celebration of its 50-year history on January 12, 2009.
We recently got a head start on celebrating with a visit to Detroit's Motown Museum.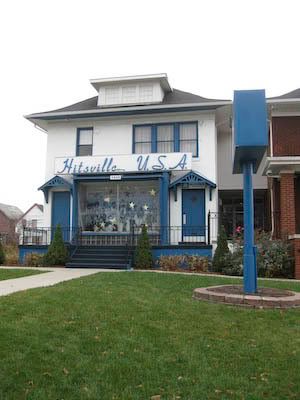 The museum, in a modest blue-and-white house that served as Motown's original home, enjoyed a steady stream of visitors on the weekday of our visit, with two busloads of students from an area school district pulling up in front of the museum as we finished our tour.
Individual visitors like us usually join a small group to tour the museum with a guide.
This day, a film student from Detroit's Wayne State University named Darren led our group of a dozen visitors, hailing from Michigan, Pennsylvania, Canada and France, through Hitsville U.S.A.
Darren told us that a million-plus people visited the museum over the years, and he usually leads six or seven small groups through the museum each day, in addition to larger groups like the students coming in behind our tour.
Our tour started in the home's upper level, where a hat and sequined glove from Michael Jackson commanded its own showcase. Darren explained that Jackson, often known as wearing one flashy glove during his 1980s heyday, donated the right-hand glove that he wore for a special Motown 25th anniversary show to the museum. The Rock and Roll Hall of Fame+Museum in Cleveland, Ohio has the left-hand glove, which Jackson wore when he met with then-president Ronald Reagan so he could shake hands with the president.
We also toured the apartment where Berry Gordy Jr. and his family lived as Motown began its rise to fame. Vintage 1960s furnishings set the scene as our guide showed us the kitchen table where the Gordy family first established Motown's shipping operations.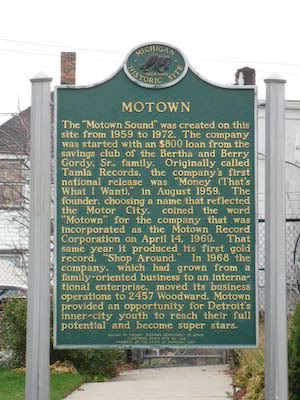 A highlight of the tour is visiting the famously cramped Studio A, where many of Motown's best-loved artists recorded their biggest hits.
While Tamla was Gordy's original record label, he coined the word "Motown" as a play on Detroit's "Motor City" nickname and incorporated his company as the Motown Record Corporation, according to a Michigan State Historic marker in front of the building.
Darren explained that Motown had 13 different record labels. The proliferation of labels allowed Motown to at least partially avoid the racism of the time that often limited airplay for African American musicians. Many of the early record jackets, especially those destined for heavily segregated markets, lacked photos of the Motown artists for the same reason. Our guide also noted that the large number of labels and deliberate mystery surrounding some of the records increased the chances of getting the music in radio rotation where stations often limited airplay for a single label to several songs during a three-hour time frame, without resorting to paying the sometimes demand for hefty payola by stations for airplay beyond those strict limits.
Motown moved most of its operations to larger quarters along Detroit's major artery of Woodward Avenue in 1968, although Studio A at the original Hitsville building remained in use until 1972, when Motown left Detroit for California as they expanded their television and movie production.
Even though Motown physically moved elsewhere, the music and the city of Detroit remained inextricably linked in the minds of music lovers everywhere. By 1980, organizers established the Motown Museum to honor that indelible link and preserve Motown's history.
Detroit city councilwoman Martha Reeves led efforts to add the name Berry Gordy Jr Blvd. to the stretch of Detroit's West Grand Blvd. running in front of the Motown Museum in late 2007. Motown fans remember Reeves as the lead voice of the Vandellas and memorable hits like "Heat Wave", "Jimmy Mack" and "Dancing in the Streets".
© Dominique King 2009