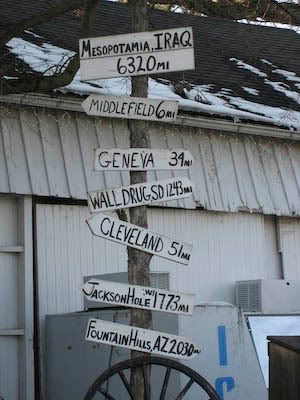 A spot of land between the Cuyahoga and Grand Rivers in Ohio takes its name from the ancient land between the Tigris and Euphrates Rivers in what is present-day Iraq.
We recently visited Mesopotamia in Ohio, a village about 50 miles east of Cleveland and more than 6,000 miles from Iraq. The town seemed deserted on this quiet Sunday with its largely Amish population occupied with observing their Sabbath.
Mespo, a nickname bestowed upon the town by some locals, covers 36 square miles with a population of 2600, which is about 60 percent Amish.
I've visited Mesopotamia several times, but I've always been reluctant to take photos out of respect for the reported Amish aversion to being the subject of photographs showing recognizable faces.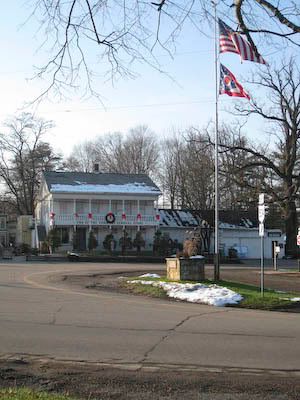 However, when we found ourselves in a deserted Mesopotamia, it seemed like the perfect opportunity to take a few photos of the charming town itself.
The 1840-vintage End of the Commons General Store anchors the quiet village, taking its name from the long grassy commons centering the town. You can buy a handful of "penny" candy or browse through the store's stock of bulk foods and Amish-theme souvenirs during store hours Monday through Saturday.
A small ice house attached to the back of the village's general store explains the history of ice-making in the area. Many area Amish residents still use block ice throughout the year to prevent their food from spoiling, and some still procure their own block ice by cutting large chunks of it from area ponds and rivers during the winter.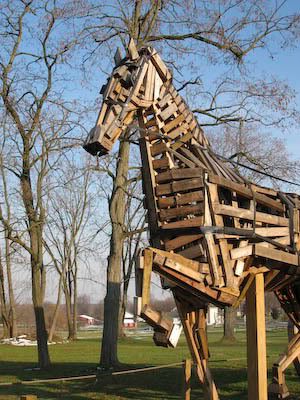 Mesopotamia's history as a settlement stretches back to 1799, with the first clearing of land there. By 1800, the first cabin stood at the site. In 1903, Mesopotamia saw its first Amish settlers as the Yost Byler family moved to the area. Other Amish settlers followed, drawn by the availability of affordable land suitable for dairy farming, maple syrup production, barn building and cheese making according to an historic marker in the village.
By 1974, the Mesopotamia Village District earned a spot on the National Register of Historic Places.
Village visitors can also admire Sir Pierpont of Mesopotamia, a large wooden horse named for the settlement's founding father Pierpont Edwards. In 1798, Edwards of Connecticut paid $2,500 for 25 square miles of wilderness that eventually became Mesopotamia Township.
The equine Sir Pierpont and his wooden buggy stand 14 feet tall. Artist Chris McConnell's creation contains 2300 board feet of lumber, 30 pounds of screws and bears billing as the World's Largest Horse and Buggy.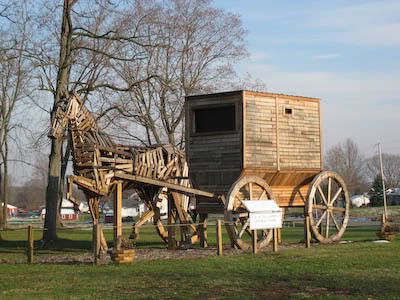 We bid the prancing Sir Pierpont adieu as a gentle rain began to fall and we left town, sharing the road with a real-life Amish horse and buggy as we headed west towards big-city Cleveland.
© Dominique King 2009