Make the most of your winter visit to the Detroit Zoo by spending some time at the zoo's interactive Arctic Ring of Life habitat.
The Arctic Ring of Life covers over four acres of indoor and outdoor exhibit area, showcasing the wildlife of some might seem at first glance to be some of the earth's most coldly forbidding regions. But the interactive Arctic Ring of Life offers a closer look at the vibrant wildlife and its relationship to the Arctic Inuit people who inhabited the Arctic areas during the early 1900s.
Opened with great fanfare as the world's largest polar bear exhibit in 2001, the Arctic Ring of Life quickly became one of my favorite Detroit Zoo exhibits.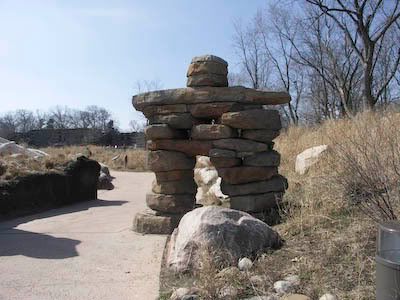 Polar bears roam a roomy tundra-like area, along with other animals indigenous to the Arctic—like the Arctic Fox. Visitors observe the animals from many points along a walkway ringing the area that includes viewing stations and leads by several large pieces of artwork like a granite polar bear at the exhibit entrance and an Inukshuk stone figure. A replica explorers' shack illustrates the tale of early Arctic explorers and their discoveries.
A small Nunavut art gallery and short ice tunnel provide a transition point for visitors leaving the outdoor "tundra" and moving into the Arctic Ring of Life's showpiece—a clear, 70-foot-long underwater tunnel leading through a 300,000-gallon aquatic environment where passing seals and polar bears swimming overhead give visitors a truly unique look at these Arctic animals.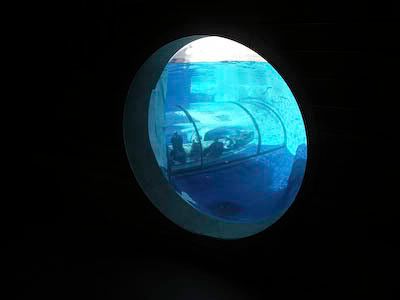 The chilled saltwater environment takes an enormous amount of effort and technology to maintain, particularly in warmer weather, but the Polar Passage is truly a great way to see the animals in a habitat that resembles their home habitat as much as possible.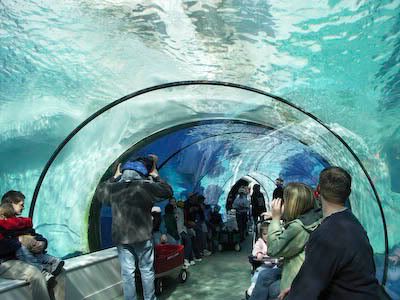 The Detroit Zoo boasts of being a leader in the exhibition, management and breeding of the polar bears since 1928, when the zoo opened its first bear exhibit. I remember the polar bear exhibit that directly preceded the Arctic Ring of Life's opening as a largely non-climate controlled area that offered nowhere near the same amount of space for the aquatic bears to frolic in the water and interact with other Arctic species like seals and foxes. The Arctic Ring of Life greatly improved the exhibit area for these animals, offering visitors a far better understanding of the animals' natural habitat and a better view of the animals at play.
© Dominique King 2009