Driving home from a conference east of Cleveland Ohio along a particularly beautiful stretch of Chagrin Road, I spotted a sign with an arrow pointing towards Chagrin Falls.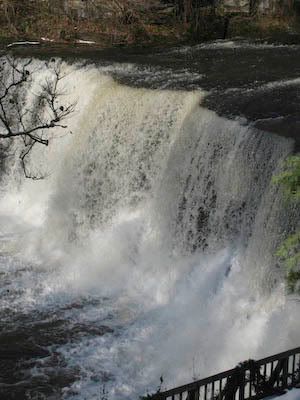 The sign immediately sparked my curiosity. I love waterfalls, but more importantly in this case, I remembered Chagrin Falls as the title of a tune by Canadian rockers, The Tragically Hip. I couldn't help turning off onto the side road where the arrow pointed me to see the infamous Chagrin Falls.
Chagrin Falls sits in a relatively affluent area about a half hour east of downtown Cleveland. Centered around its namesake waterfalls, the village originally grew as a busy industrial area with businesses clustered around the ample water supply provided by the falls. A historical marker near the high falls lists an ax factory, a foundry, two flour mills, four woolen mills, two sawmills, three paper mills and a woodenware factory as part of the bustling business community in mid-nineteenth century Chagrin Falls.
Today, the factories are largely gone from the immediate area, and the village center's business community consists largely of a few restaurants and small retail stores.
A wealth of well-preserved buildings dating from the mid- to late-1800s, a large park bordering the waterfalls and the falls themselves draw tourists and day-trippers to Chagrin Falls. In warmer weather, steep staircases lead from the street level to the lower portion of the falls for those wanting a closer look at the rushing water. But the village still seems to draw plenty of visitors during colder weather like the recent sunny, but snowy, day we returned to Chagrin Falls to stroll around town and take a few photos of the waterfalls.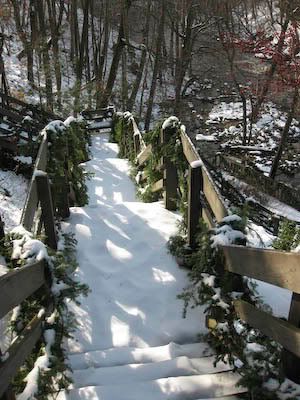 You might wonder why such a picturesque village has the shame-faced Chagrin in its name, and the origin of the name is even a matter of debate among village historians.
The historical marker at the falls says the Chagrin River drew its name from a French trader named Francois Seguin, who traded with Native Americans in northeast Ohio during the mid-1700s. The Chagrin Falls Historical Society offers a couple of other possible explanations for the name, but says the most accepted story is that the name represents a corrupted and Americanized version of trader Seguin's name.
Connections like the Tragically Hip's obscure lyrics about a wandering spirit, the fact that Stone Temple Pilots/Velvet Revolver vocalist Scott Weiland spent part of his childhood in the village, and the possibility that Chagrin Falls resident Bill Watterson used the village as the primary setting for his popular Calvin and Hobbes cartoon mean that the village's contemporary history may be every bit as fascinating and puzzling as its early chapters.
© Dominique King 2009