We loved Basque cuisine when we visited the Basque country along the French and Spanish border a couple of years ago. I especially enjoyed the emphasis on seafood and a variety of peppers, while Tim seemed to enjoy the cured ham that we saw hanging in the open air nearly everywhere we went during that trip.
Our enjoyment of Basque cuisine made me wonder about the specialties in other parts of the region, so my curiosity was piqued as I drove towards a freeway entrance in metropolitan Cleveland Ohio and spotted a sign for a restaurant specializing in "Flavors of Spain".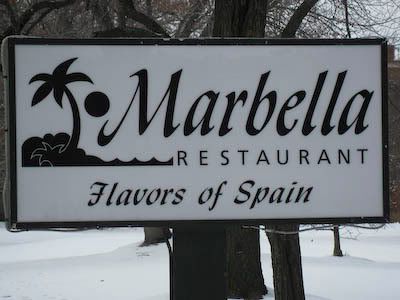 Marbella Restaurant takes its name from the seaside resort town in southern Spain and had only recently opened when I first spotted it on the way home from a writers' conference. I decided that dining at Marbella was a must-do the next time I returned to Cleveland with Tim in tow.
Once we'd both checked out the restaurant's extensive Web site, we couldn't wait to book a table for two at Marbella.
Marbella, opened in 2003, is the "sister" restaurant to the award-winning Mallorca in Cleveland's downtown warehouse district. Marbella's site describes the menu at both restaurants as a mixture of Spanish and Portuguese cuisine.
We anxiously awaited our next trip to Cleveland.
The day finally arrived when we found ourselves back in the eastern suburbs of Cleveland and arriving at Marbella Restaurant for our long-awaited meal.
The menu included an extensive selection of items listed by both their Spanish names and the English translation.
It was difficult to know where to begin.
Even though I'm a huge fan of well-made gazpacho, I couldn't resist starting off this meal with Sopa De Ajo. This thick and smooth garlic- and bread-based soup turned out to be a great decision to start the meal on a cold winter evening. Fortunately, Tim loves garlic as well and chose the same starter.
While Marbella's dinner menu includes plenty of meat, poultry and pasta selections, the real star of the show is the seafood. We've eaten at the restaurant several times and were happy whether we chose one of the evening specials or a regular menu item, but be sure to try the restaurant's signature Paella Vallenciana at least once. This paella includes lobster, shrimp, mussels, clams, chorizo sausage, chicken, white fish and vegetables mixed into, or topping, saffron rice.
Marbella's site warns diners that the restaurant's portions are huge and that many diners plan to take leftovers home to eat later. This is no exaggeration—especially when it comes to the paella. If you're from out of town and staying overnight, try to make sure you book a hotel room with a mini fridge and microwave oven or convince a dining companion to share paella with you. The portions are truly huge and the food is just too good to waste if you can't eat it all at one sitting.
Marbella offers an extensive wine list that includes many Spanish wines. I usually opt for a glass of the house-made sangria with my dinner.
Many of the restaurant's servers appear to be Spanish or Portuguese, and during one visit, we heard a server at a neighboring table good-naturedly allowing his customers to practice their Spanish by conversing in that language with them.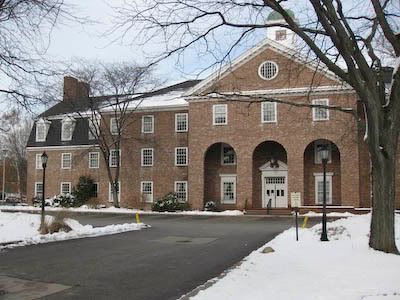 We unfortunately live several hours' drive from Marbella Restaurant, so we only get there once every year or so. However, fans of the restaurant, or Spanish cuisine and culture in general, can find a lot of interesting reading, instructions for subscribing to an e-mail newsletter and links to other sites about Spanish food, wine, travel and culture at the restaurant's Web site.
© Dominique King 2009