George gets around.
In the past ten days, I've seen reports placing George in Michigan, as well as Illinois, Connecticut, Ohio, Missouri, Pennsylvania, New Hampshire, New Jersey, Texas, California and Indiana.
Over the past three years, my Georges logged nearly 750,000 travel miles and visited nearly every state in the Union—although George is still trying to make it to Alaska last I heard. During the same three years, George visited Canada, Honduras, Mexico, Bahamas, the Virgin Islands and Puerto Rico. George also reported back from Germany and the United Kingdom.
I can only wish that I traveled as much as George!
How do I know what George is up to these days? I vicariously enjoy George's travels and track them via the Where's George Web site.
I suppose it may sound geeky to some folks, but I enjoy seeing where my bills go, tracking their progress with a series of maps and reading some of the funky user notes people leave for me as they report on George's travels.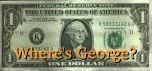 Where's George, a currency tracking system devised and developed by a Massachusetts man, Hank Eskin, tracks user-entered bills by serial numbers and year issued. Eskin became intrigued with the natural and geographic way currency circulated and developed a sophisticated database and site to track the currency he had in his pockets. He launched Where's George in late 1998.
Celebrating a decade in existence this month, the site allows people curious about where their money actually goes when it leaves their pocket, wallet or purse to track its travels. Users have entered more than 140,000,000 bills totaling more than $750,000,000 into the site in hopes of hearing from their George (Tom, Abe, Alex, Andy, Uly or Ben) as it travels.
I love traveling. But if I can't be on the road, I always enjoy seeing where George turns up next!
It usually takes at least a few months and a thousand or so bills to start seeing your Georges travel a little distance, but it quickly becomes an absorbing hobby for many people.
Most Georgers seem to enter bills for the fun of a hobby. Others have more serious purposes in mind, like homeschooling parents who use the site to develop their own lesson plans involving subjects like geography or math.
Most notably on the serious side, the site attracted attention of researchers at the University of California at Santa Barbara and the Max Planck Institute for Dynamics and Self Organization. Those researchers saw the currency circulation tracking system as a possible means to help predict how a virus spreads from human to human. Reasoning that people take money from place to place, and that viruses travel in much the same way, researchers monitored the movement of bills and published their conclusions in the Nature journal.
The site has an extensive network of discussion forums that range from topics strictly related to currency tracking to a wide range of social networking, games and threads covering a host of non-Georging subjects.
Because the site draws a wide range of folks of all ages and from all over the U.S., Canada and even from outside of North America, it's possible to find others interested almost any topic imaginable. I've found advice about geocaching, chat with other hockey fans, a few fellow bloggers and support dealing with difficult situations. When one Georger died suddenly in a job-related accident earlier this year, his fellow Georgers from around the country quickly raised money to seed an account to send his youngest child to college after the kid finishes high school.
Georgers also use the forums to organize local gatherings like one I attended this week with about a dozen other Georgers from Michigan and Ohio.
Meanwhile, I'm looking forward to hearing where George turns up next. Will one of my bills turn up in a vending machine in Wisconsin? Will one of my bills attend a big hockey tournament or football contest? Will one of my bills reportedly turn up in a strip bar? Will someone report back that George is sunning himself on a sunny beach in the tropics? And will one of my bills finally make it to Alaska?
© Dominique King 2008