I love decorating our Christmas tree every year.
We crank up the holiday tunes, bring up the boxes stuffed with ornaments from their basement storage closet and undo the knot of ornament hooks as we survey the ornament collection I began as a young kid.
Some of our favorite ornaments evoke memories of our travels over the years, because holiday ornaments are often the souvenirs I bring back from a trip.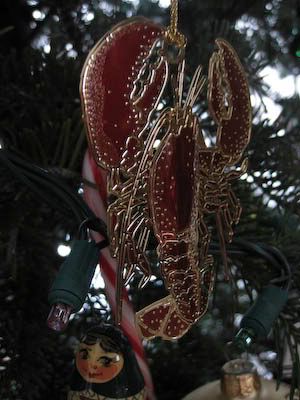 We usually treat ourselves to a lobster dinner on Christmas Eve, ordering steamed lobsters from our local fish market and bringing them home to enjoy by the lights of our tree. So, when I spotted a lobster ornament in Newport, Rhode Island earlier this summer, I knew I had to bring it home to hang on our tree this year.
Northern Michigan is one of our favorite destinations, and I love visiting the Gwen Frostic store in Benzonia for "Up North" themed cards, wrapping paper, woodblock prints and other gifts featuring the late artist's woodland-inspired work. When I spotted a glass disc ornament featuring a favorite Frostic chickadee motif, it ended up in my shopping basket and coming home with me to hang on our tree every year.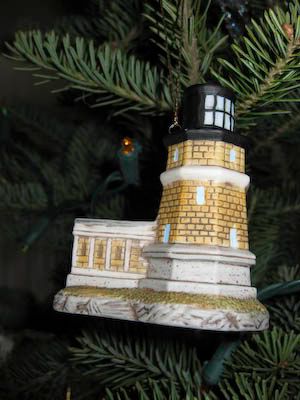 Lighthouses are favorite photography subjects for us, and northern Minnesota's Split Rock light, perched high on a cliff overlooking Lake Superior, is one of the more beautiful lights we've visited. So the miniature yellow, white and black ceramic version of the Split Rock Light was another ornament that I had to have for our Christmas tree.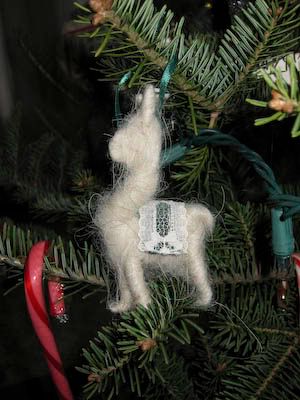 Little llama ornaments made from sheared llama hair recall a pleasant afternoon we spent at a Llama Festival while visiting Vermont a few years ago. I feel the soft fur and remember a "llama trek" we took the same year where our llama companions Tumbleweed and Toro accompanied us on a walk through Vermont woods culminated by a gourmet picnic lunch in a meadow as our llamas grazed nearby.
A miniature sock monkey reminds me of the Thanksgiving we spent on the road, searching for an open restaurant as we returned from a trip to South Carolina. We finally found an open Cracker Barrel along the highway in North Carolina, where we had a turkey dinner. I always wanted a sock monkey, so when I found a pair of cute sock monkey ornaments in the Cracker Barrel store, they came home with us to hang on our tree.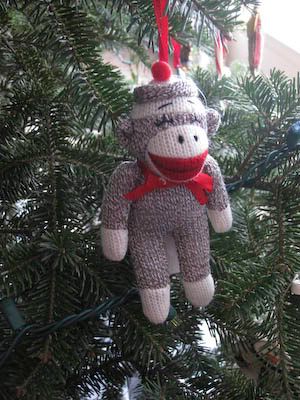 I think about last year's trip to the wide open land of Wyoming, Montana and the Dakotas when I hang several copper cut-outs of sheep, horses and buffaloes on my tree.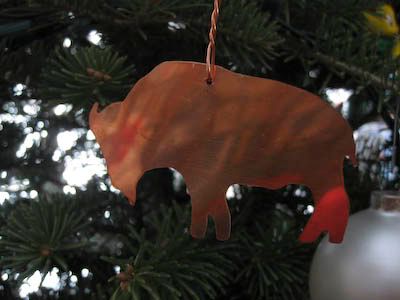 And I wonder where the wide-open road will take us next.
Here's wishing you and yours a glorious and blessed holiday season and the happiest of New Years!
© Dominique King 2008