I love cheese. Tim loves cheese. So it stands to reason that we'd gravitate to a place called Cheese Haven.
We've made the trip along the stretch of Ohio's turnpike running between Toledo and Cleveland many times, and it's safe to say it's not the most exciting drive. Taking Highway 2 as an alternate route between the two cities isn't the most scenic route, either. However, I always look forward to the trip, as it allows us to hop off the road for a couple of our favorite detours.
We love driving up Ohio's Marblehead Peninsula to visit the lighthouse. No trip back from the lighthouse to hop back onto the highway home is complete without a stop at the place billing itself as Ohio's largest cheese shop, Cheese Haven. This northern Ohio landmark celebrates 60 years in business this next year.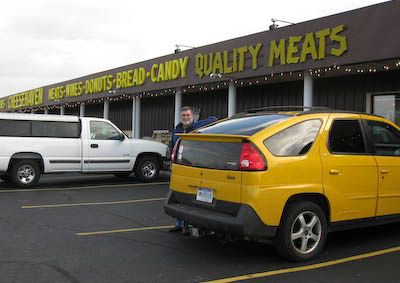 A stop at Cheese Haven gives whole new meaning to my love of visiting "cheesy" tourist places, from driving up to the brown and yellow store that boldly announces its products on the exterior, to gaping at the long counter showcasing a huge selection of cheeses and sausages. Best of all might be making the slow trip along the counter and stopping to try the numerous samples that Cheese Haven always has set out for visitors. I love checking out the cheeses while nibbling on samples of aged cheddars, smoked cheeses, spicy sausages and a bit of cheddar spread on a cracker as I'm making my purchases.
The rest of the store stocks many regional products like Marblehead-area wine, local mustards and other condiments. They also offer a large variety of candy, meats and deli products.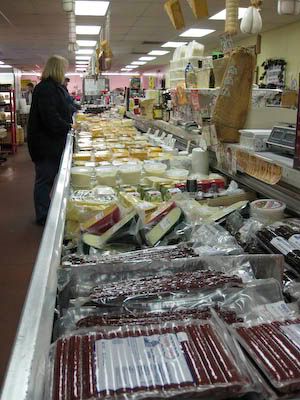 With a selection that includes 125 different kinds of cheese from Ohio and around the world, I usually blow my budget at the cheese counter before I can even look at the rest of the store.
We recently came back from a visit to Cleveland, with the obligatory stop off at Cheese Haven, so our fridge's cheese drawer is full of our Cheese Haven favorites like cheddar spread, four-year-old white cheddar, butter cheese that seems hard for me to find here in the Detroit area and a large stick of one of Tim's favorites, bierwurst.
Cheese Haven also has a nice calendar every year that features scenic landscape photos. I have the 2008 version on my office door, and before I even could ask about the 2009 version as I was making my latest cheese purchase, the clerk tucked a new calendar into the bag with my cheese and sausage. It's those sorts of niceties that make dealing with family-owned businesses like Cheese Haven so enjoyable.
Even if you can't visit the store in person, check out Cheese Haven's Web site to shop for some cheesy goodness.
© Dominique King 2008