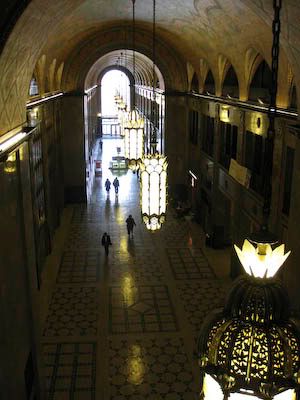 Here are a few photos that didn't make it into my original post about Detroit's Fisher Building.
The building is such a cool Art Deco gem that it's possible to spend hours exploring and taking photos. I only wish the lighting was better inside, as the building is so massive that using a flash is ineffective.
Still, I like some of these photos because the subdued lighting seems to give them a real sense of the somewhat faded glory of the Fisher and the almost cathedral-like feeling the building exuded on a quiet and cold November afternoon.
Thanks to Debbie Dubrow of Delicious Baby for creating and coordinating Photo Friday to link travel photos and blog posts across the Web.
© Dominique King 2008