Supporting a local family of companies aimed at sharing the tastiest in regional fare and more exotic finds like wild fennel pollen, smoked Spanish paprika or pomegranate molasses to give a spicy flair to otherwise bland dishes, is key to eating well here in Michigan, and elsewhere.
Paul Saginaw and Ari Weinzweig opened a small corner deli called Zingerman's in the college town of Ann Arbor (Michigan). No, there wasn't a Mr. or Ms. Zingerman among the founding parents of the company in 1982, but the founders and their team worked hard to establish the name "Zingerman" firmly first in the hearts of many discriminating foodies around the nation.
A humble Michigan deli developing into a food empire awarded a Lifetime Achievement Award from Bon Appétit magazine? Check!
Zingerman's as a feature story subject in the New York Times? Check!
The Zingerman's extended family of businesses recognized as "the coolest small company in America" by Inc. Magazine? Check!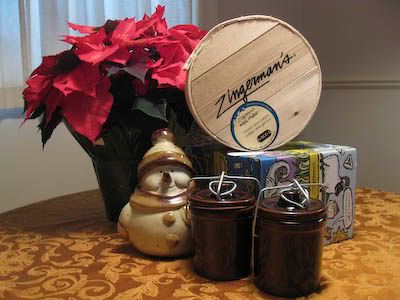 Folks not familiar with Zingerman's dedication to quality food and pleasing their customers may wonder how a deli deep in the heart of "flyover country" managed to garner attention from some of the biggest hitters in the food and business worlds. Those of us fortunate enough to visit the original deli's cramped quarters, sample a few of the half dozen amazing varieties of mac & cheese or a hearty helping of pit smoked beef brisket at Zingerman's Roadhouse restaurant, or order from Zingerman's fun and informative mail order catalogs know better.
Zingerman's gift boxes of carefully chosen cheeses or one of their dense coffeecakes is the perfect gift solution for some of the most difficult-to-please folks on our gift list. Tim's family always looks forward to having him draw their names in the Christmas gift exchange because, as one of his sisters remarked, they know that they will eat well that holiday.
Want to help families celebrate midnight baby feedings, provide a bit of comfort for families sitting Shiva or attending a wake with a bereavement gift food box, or send a college student a supply of quality munchies? Zingerman's has you covered!
Ordering from the company by phone is always a joy, even at the busiest holiday season. Zingerman's staff makes each customer feel important and helps them create the perfect gift combo to suit any occasion.
Zingerman's family of companies includes the deli, Roadhouse and mail order arm, as well as a coffee company, creamery, bakehouse and catering division. While one or more managing partners operate each Zingerman's enterprise, and nearly 500 people work and generate $36,000,000 in annual sales, Paul Saginaw and Ari Weinzweig still lead their growing Zingerman's family.
Weinzweig, in particular, is one of the more visible faces of Zingerman's. His words are often those that readers enjoy as they read the company's quirky catalog, newsletters or Web site extolling the joys of good eating. And it's not unusual to see Weinzweig circulating throughout the Roadhouse filling water glasses, clearing tables and making sure visitors enjoy their meals. He stopped by our table one Sunday afternoon to ask how we enjoyed our pimento cheese appetizer (it was fabulous!) and to make sure we were enjoying our meal.
Meanwhile, my latest Zingerman's catalog is sitting here on my computer desk to remind me that it's time to figure out what I'm going to order for the holidays. A crock or two of Pimento Cheese Spread is definitely on my list, and Tim tells me I can't forget to order one of his favorites—Gingerbread Coffeecake (all of Zingerman's coffeecakes freeze quite well, so it's possible to cut them in to smaller pieces, double bag them in plastic and freeze the pieces for later enjoyment).
© Dominique King 2008