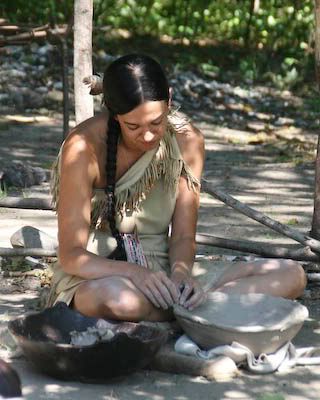 One woman busily husked corn in the bright sunshine at the village center as another woman carefully crafted a bowl under the sheltering trees near a cooking fire at her home just a few minutes' walk away from the cornhusker.
The common threads of caring for family ran through both vignettes, but the scenes at Plimoth Plantation were worlds apart in many other ways.
Plimoth Plantation presents a respectful representation of life in two distinctly different cultures. Modern Wampanoag and other Native Americans represent the Wampanoag living and working in Patuxet, while a cast of interpretive role players represent life in a neighboring 1627 colonial village populated by English settlers near the area now known as Plymouth, Massachusetts.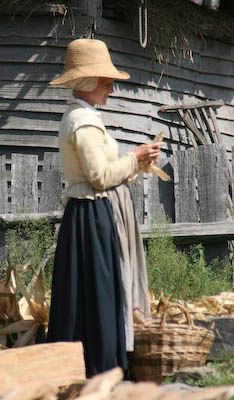 We left our car in Plimoth Plantation's huge parking lot and took a short walk back in time to the wooded Wampanoag homesite. Signs along the trail urged visitors to ask questions and interact with the Wampanoag. The signs also gently reminded visitors to avoid culturally insensitive questions and stereotyping. This struck me as a slightly disturbing comment on the depth of the differences and misunderstanding existing between differing cultures, but these are differences that Plimoth Plantation strives to respect as the site educates visitors about the Native Americans and English settlers working and living there in the 1620s.
The wooded site and quiet industry of the Wampanoag as they worked in their home and gardens lent the site a sense of serenity, while the starkly sunlit colonial village and more vocally businesslike manner of the Pilgrims seemed to lend the village a more relentlessly bustling character. The contrasting character of each community only served to highlight a common strength of character that allowed both communities to carve homes out of a harsh land and climate.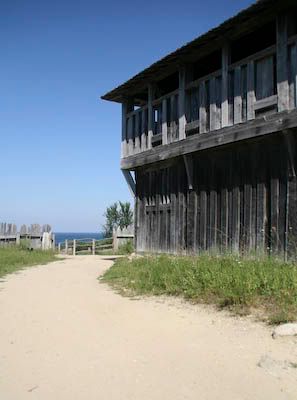 Dusty trails led uphill to a fort that served as a defense for the colonial village, as well as hosting community meetings and worship. The village buzzed with activity as settlers prepared the harvest for use, maybe to cook in one of the settlement's outdoor community ovens, and for preservation to last the harsh Plimoth winter.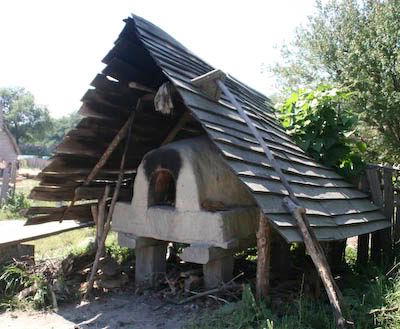 Villagers acknowledged us and genially wished us "good morrow" as they continued their constant labor. Each thatch-roofed home in the village bid us to enter through open doors and see where the early Pilgrims spent time with their families, slept and arose to another work-filled day.
The Plimoth Plantation guidebook I purchased at the site's gift store (yes, there's always a gift store at these places, and I always end up with at least one book when I visit!) explained the site's name. The spelling of P-l-i-m-o-t-h comes from a spelling used by early Plymouth Colony governor William Bradford in a history about the area. Seventeenth-century English people commonly used "plantation" to describe new colonies, or places they planted with people.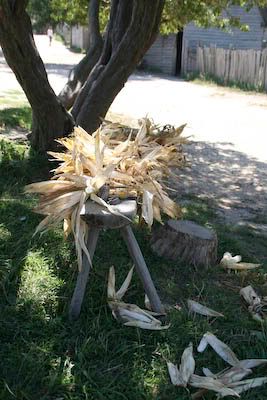 And it's the people that make Plimoth Plantation come alive for modern visitors. Spending a pleasant day strolling through the 1627 village and returning the cheerful greetings of the industrious Pilgrims, or spending time with a Native American woman who showed me the soup she was preparing for her family and explained how she carefully maintained her cooking fire, gave me a new respect for the hard work required of each community to carve a decent life for their families out of the 1620s wilderness.
Postscript:
The Mayflower II is part of Plimoth Plantation, and you can read about our visit to the ship here.
The main Plimoth Plantation complex also includes a Crafts Center and a few conventional indoor museum exhibits in the Visitor Center near the entrance.
Museum visitors learn that the "first Thanksgiving" was really a harvest celebration, coupled with military exercises and diplomatic events during a three-day meeting between the Wampanoag and English colonists in 1621. It wasn't until much later, in 1863, that President Lincoln declared Thanksgiving as a national holiday for expressing gratitude.
In any case, if you're celebrating Thanksgiving this week, enjoy!
And thanks to everyone visiting Midwest Guest!
© Dominique King 2008