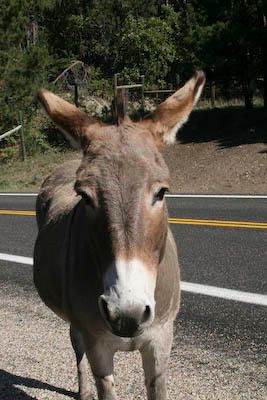 "Won't you give me just a bite of something to eat?"
His sad eyes focused on the occupant of each vehicle as he mournfully meandered along the side of the road and wove a path from car to car begging for food.
Snap-happy photographers focus on the photogenic "begging burros" of South Dakota's Custer State Park. An adventurous few will hop out of their vehicles to pet or feed the animals, and part of me wished we had something to offer our new friend. But feeding wildlife causes problems like increasing the animals' dependence on humans, decreasing their shyness around potentially deadly vehicles and resulting in a fatty and sodium-laden diet. For those reasons, rangers discourage visitors from feeding the burros or other park wildlife.
So, I contented myself with a few photos of the burro and his friends.
One burro wandered quite close to our vehicle and posed for a few seconds, until he determined that we didn't have any food to offer him. Thankfully he didn't deposit saliva on the car to express his displeasure in our failure to offer munchies, as our South Dakota Compass American Guide suggested he might. He simply moved onto the next vehicle in search of food.
Burros once took tourists up to the top of Harney Peak. The rides discontinued many years ago, and officials released the herd into the park where they remain very visible and accessible to visitors.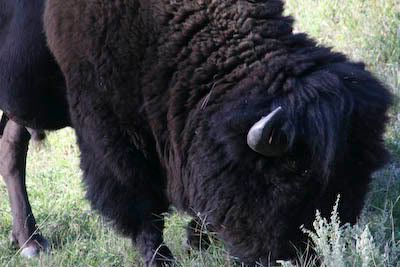 Burros are only one of the park's many animal attractions. Bison, big horn sheep, prairie dogs, mule deer, elk, coyote, pronghorns and a variety of birds are part of the park's amazing wildlife. We visited Custer State Park during a swing out West (where we also visited Yellowstone, Grand Teton, Glacier, Badlands and Teddy Roosevelt parks), and we found Custer's wildlife viewing and photographic opportunities to be most accessible and plentiful of all of the parks we visited during that trip.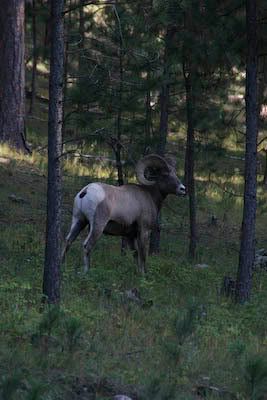 Custer State Park's buffalo herd is particularly impressive. Bison numbered about one million in North America's early years, but by 1900 numbers of bison in North America dwindled to reportedly fewer than 1,000 animals. Started with 36 animals purchased by the park in 1914, Custer's bison herd today requires annual roundups to keep the numbers around 1,500 to prevent over-grazing of park land.
We found the bison seemingly disinclined to interact with tourists as they lumbered beside, and in the middle of, the road with a gruff disregard for traffic.
I was disinclined to interact too closely with the one-ton animals myself and popped my head out of our vehicle's sun roof, parked at a safe distance from the bison, to focus my zoom lens on the dining herd to take photos.
Dusk began to fall. Then the early evening light disappeared and night settled over the park as a more nocturnal cast of animals came out of the shadows.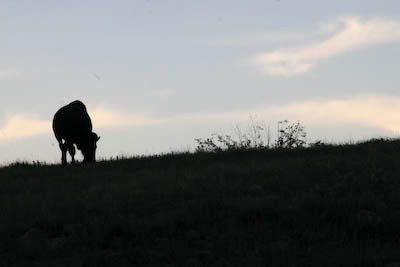 Meanwhile, I suppose the begging burros retired to rest up before the next day arrived so they could turn their pleading eyes to another batch of visitors in hopes of finding a new meal ticket. And I went home to enjoy my memories and photos of my time in the park.
© Dominique King 2008