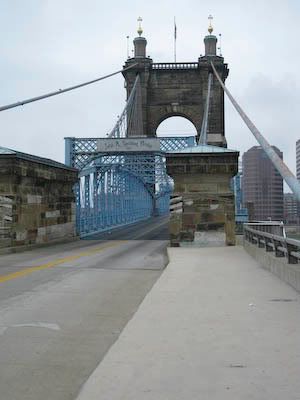 We enjoyed walking over the beautiful Roebling Bridge from Cincinnati (Ohio) to Covington (Kentucky).  Designed by engineer John Roebling and opened January 1, 1867, the suspension bridge became the first bridge to span the Ohio River and was a prototype for New York's Brooklyn Bridge.
Links and information in story updated 2020
The Roebling Bridge has a fascinating history, and you can learn more about it at Cincinnati Transit's site or the Covington-Cincinnati Suspension Bridge Committee site.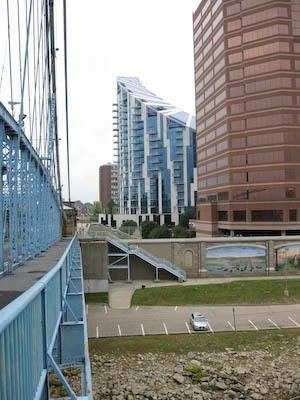 As we neared Covington, I spotted a blue-and-white high-rise dominating the city's skyline and marveled at the juxtaposition between the solid old bridge and the modern building full of sharp angles soaring high into the sky.
Architect Daniel Libeskind designed The Ascent at Roebling's Bridge, a 22-story luxury residential complex completed in 2008. Libeskind, also named as the master planner to rebuild the World Trade Center site in New York City, designed the Ascent'sunusual angles to maximize the site's river views.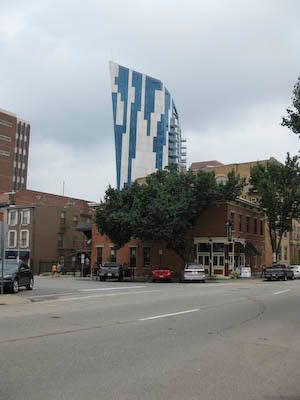 Approaching the building, I took a few shots straight up towards the highest point of the building. The effect of looking at it from the ground almost gave me a vertigo-like sensation, but the effect of seeing the building close up was impressive.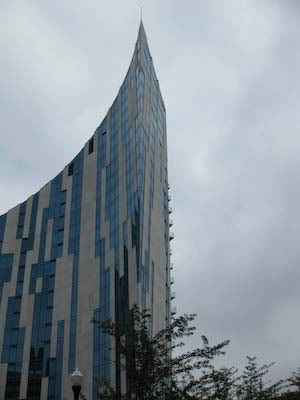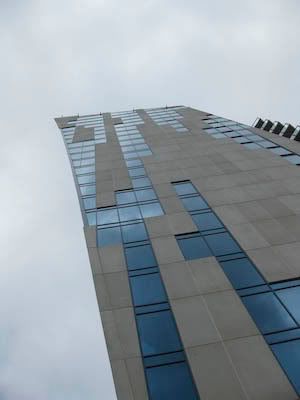 Thanks to Debbie Dubrow of Delicious Baby for creating and coordinating Photo Friday to link travel photos and blog posts across the Web.
© Dominique King 2008 (updated 2020)