President Teddy Roosevelt often credited his time visiting North Dakota with helping to propel him into the United States' presidency, so I suppose it would come as no surprise to him that one glance at the spectacular scenery in the national park bearing his name inspired us to pull off of the interstate to explore the area.
We expected driving through North Dakota en route to Montana would be a long, monotonous trip along I-94, but our visit to Theodore Roosevelt National Park proved to be a pleasant surprise—and a great way to start our trip out west.
We ended up spending several hours at the park, sacrificing a planned day in Missoula for it and quickly regretting that we hadn't allowed time for at least a couple of full days in the area.
A young Teddy Roosevelt initially visited North Dakota's badlands during a bison-hunting trip in 1883. Roosevelt's life over the next few years offered political defeat and several setbacks, including the 1884 deaths of both his wife and mother on the same day. He found the solitude and vigorous outdoor activity he enjoyed during subsequent visits to North Dakota helped buoy his spirits, and his time there did much to shape his interest and advocacy in conservation and preserving the country's quickly vanishing wildlife and wild lands.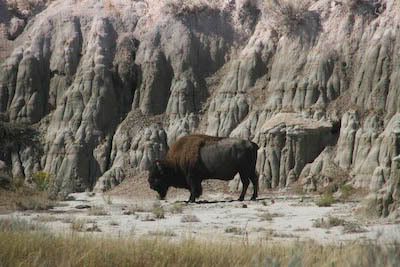 Efforts to recognize Roosevelt's advocacy for conservation began during the 1930s as a Civilian Conservation Corps (CCC) project to create a state park in North Dakota. The park became Theodore Roosevelt National Park in 1978, when then-president Jimmy Carter signed the law that established its status as a national park and designated a large swath of the park as a National Wilderness.
South Dakota's badlands may be more well known and more frequently visited by tourists than the badlands at North Dakota's Theodore Roosevelt National Park, but the northern badlands exert a strong pull on those who love our nation's wildest and most ruggedly remote areas.
Our day visit afforded us barely enough time to slowly drive the 36-mile scenic route through the park's South Unit, while stopping numerous times along the way to get out and photograph prairie dog villages, scenic badlands vistas and grazing bison.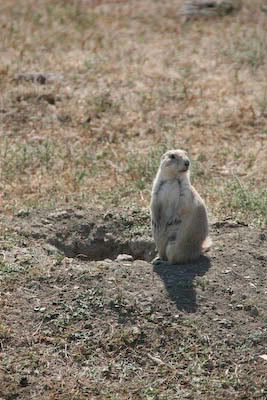 The town of Medora, North Dakota anchors the South Unit route and offers visitors several options in the way of dining, lodging and activities like horseback riding, golfing, musical and theater performances and museums.
The more northern reaches of the 70,000-plus-acre park includes a 15-mile scenic route through the park's North Unit and access to Theodore Roosevelt's beloved Elkhorn Ranch site.
The north and south units both contain large areas of legislated wilderness areas, for a combined total of nearly 30,000 acres of wilderness, or 42 percent of the total park area.
Photos barely begin to do the park justice, but the Theodore Roosevelt National Park Impressions book I purchased at one of the park's visitor centers and the park's Web site photo galleries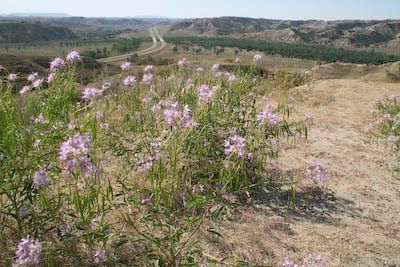 Our visit to Roosevelt's beloved North Dakota badlands ended all too soon as we were booked to arrive in Montana that evening, but we want to return to the area sometime in the next few years so we can spend more time exploring the park, its wildlife and discover how it inspired one man's presidential aspirations and his lasting influence on preserving some of our country's wildest landscapes.
© Dominique King 2008 (updated 2020)