Enjoying a lobster roll sandwich and a beer on a seaside tavern's patio may seem like a curious way to study history, but it proved to be the perfect way to end our historical adventure at Mystic Seaport.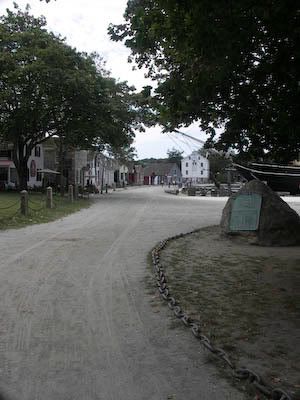 Schaefer's Spouter Tavern, named for a tavern in Melville's Moby Dick and serving a lunch menu reminiscent of fare at a 19th-century inn, is but one of Mystic Seaport's village of restored and recreated buildings.
The historical complex at Connecticut's Mystic Seaport reminded us of Greenfield Village at the Henry Ford in Dearborn Michigan. The Henry Ford, especially in the indoor museum, emphasizes Detroit's automotive industry, but Mystic Seaport emphasizes New Enlgand's seafaring background.
Like Greenfield Village, Mystic Seaport hosts a variety of structures illustrating the lives and times of people who lived there. We visited businesses like the doctor's office and drug store and the village printer, as well as homes where families lived and crafted quilts, woven rugs, blankets and other items.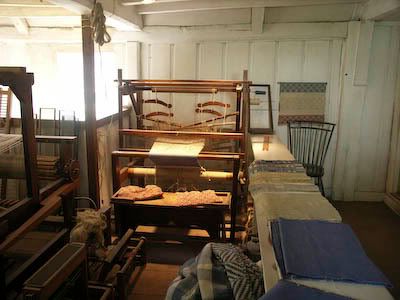 The jaunty and somewhat wistful sound of an old folk song drew us into the Fishtown Chapel, where an interpreter sang sea shanties while explaining their history aboard the large sailboats. Traditional shanties provided more than entertainment for hard-working sailors. The songs provided rhythm that helped coordinate efforts of workers completing complex team tasks involving a boat's rigging, which our interpreter illustrated by pulling an imaginary rope as we sang along in time to her efforts.
The seaport somehow survived our singing, and we moved on to tour some of the village's boatyards and nautical restoration projects.
Mystic Seaport's Preservation Shipyard includes a spacious mezzanine with the best vantage point from which to watch workers using historic methods and tools to preserve and recreate some of history's best-known and -loved sea-going vessels.
One of the shipyard's best-known projects may be a re-creation of the Amistad. The original Amistad schooner served as the scene of a slave revolt. That infamous incident and subsequent Supreme Court case played an important part in the abolitionist movement in the United States and became the subject of a Steven Spielberg film.
The re-created ship varies a bit from the original schooner and is the subject of a display at the shipyard. While the Amistad freedom schooner was not at the shipyard during our visit, we were fortunate enough to catch a glimpse of it earlier in the week at a brief stop in New Haven, CT.
We stopped by Mystic Seaport's maritime galleries, where we found a fascinating exhibit about Captain George Comer's pioneering observations of Hudson Bay Inuit traditions and culture during the early the 20th century, as well as a collection of beautiful and ornate ship figureheads.
No visit to a seaport would be complete without getting out on the water, would it? A short cruise aboard the coal-fired steamer Sabino showed us the view from the water of many Mystic Seaport landmarks. The Sabino celebrates its centennial in 2008 and is a National Historic Landmark.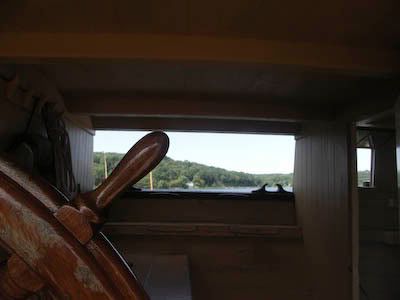 Being out on the water was a cool respite during the hot, humid day of our visit. Now it was time to visit the pub and enjoy that lobster roll!
© Dominique King 2008