I dread coming home from a trip and seeing the bin full of accumulated bills, catalogs and advertising circulars the mail carrier inevitably leaves on my front porch. But I dutifully dug through the mail pile earlier this week after our return from a trip to Connecticut and Rhode Island, separating the bills and bank statements from the rest of the please-donate-money, please-buy-this and vote-for-me ephemera before finding what I really sought on the bottom of the bin—my season ticket package from the Plymouth Whalers!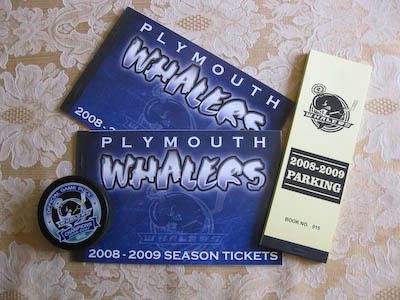 Everyone knows that I'm a rabid hockey fan, and folks are constantly asking me about the Detroit Red Wings once the season starts in September. I love the Red Wings, but high prices, and limited ticket availability for the pro games mean that I see very few Wings games in person. And I don't watch a lot of games on television.
I opt instead for the excitement of affordable live hockey with the Ontario Hockey League's Plymouth (MI) Whalers.
The OHL Junior Major League players are 16- to 20-year-old athletes starting their pro careers, with a good number of them eventually making it into the "Big League" to become part of a National Hockey League team. The high-level young talent means fast-paced and exciting hockey for fans and the opportunity to see many players before they become NHL stars.
We've had season tickets for the Whalers since the early 1990s. Whaler alumni we've watched in the early stages of their professional careers include: David Legwand, Chad LaRose, Pat Peake, Stephen Weiss, Todd Harvey, Robert Esche, Fred Brathwaite and Bryan Berard. We also invariably see players we recognize as alumni from other OHL teams playing on teams throughout the NHL when we do watch a Wings game on television.
Whalers' individual tickets cost $11-$15. The 34-game season ticket package costs $269-$399, which includes free parking and line-up cards for center-ice ticket packages. Pricing plans also include family value packages with hot dogs and soft drinks, group ticket plans and mini-season or flex packs that make going to a hockey game an affordable and fun trip for families and organizations.
A road game is a nice excuse for a weekend trip, and we've visited places Saginaw (MI) and a batch of Ontario cities like Windsor, Guelph, London, Kitchener, Sarnia and Sault Ste. Marie to watch Whalers hockey. Busy border crossings in Detroit and a schedule filled with weekend home games at the Whalers' arena in Plymouth make road trips a little more problematic these days, but the Whaler practice of playing both Canadian and American national anthems before each game gives the outing to Plymouth a bit of an out-of-town game feeling for me.
So, look for me at center ice, singing along with both national anthems and enjoying a Canadian beer as I watch the Whalers open their 2008-2009 season by facing off against the Erie (PA) Otters on Saturday, September 20.
Better yet, check out the Plymouth Whalers schedule and join me out at the arena this season to enjoy some great live hockey action.
Drop the puck!!
© Dominique King 2008