We ventured across the Ohio River one rainy afternoon during our recent Cincinnati trip to visit neighboring Newport, Kentucky for a little geocaching.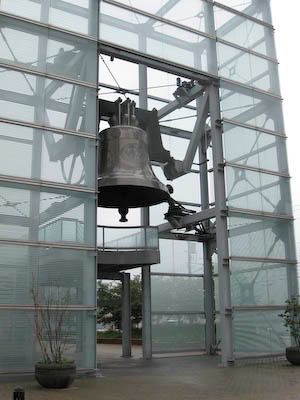 Links and information within this story updated 2020
Our search for a virtual cache took us to the World Peace Bell. The bell, a project managed by Cincinnati's Verdin company and billed as the "world's largest swinging bell", is 12 feet in diameter and weighs 66,000 pounds. Installed in 1999 at the Millennium Monument site in Newport, the bell first rang at the site on January 1, 2000. A French foundry cast the copper/tin bell and Cincinnati/Newport area companies created most other components of the bell and tower.
Although we visited around noon, the bell didn't ring during our visit, and the nearby center and store dedicated to the World Peace Bell wasn't open.
However, we got credit for finding the virtual cache located at the bell, and you can see a short video clip of the bell ringing on YouTube.
Thanks to Debbie Dubrow of Delicious Baby for creating and coordinating Photo Friday to link travel photos and blog posts across the Web.
© Dominique King 2008(updated 2020)