Bill Rezek's enthusiasm and pride in Historic Jacob Hill Inn at Seekonk, Massachusetts is apparent the moment we arrive and check in for a four-day stay.
I can no longer find any current information on this bed and breakfast inn online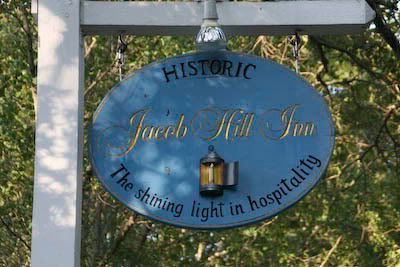 Our tour of the inn begins with the common areas and our own accommodations, the luxurious Providence Suite. We're immediately impressed with the quality of the property and amenities. We're even more impressed when we find that Bill and his wife Eleonora did most of the renovating and decorating themselves over an 18-year time span.
The Allyn family built the Historic Jacob Hill Inn's original building during the 1720s. Subsequent additions and owners, including the property's time as an affluent Hunt Club, resulted in a sprawling property with several buildings that Bill and Eleonora purchased in 1991 to transform into an inn.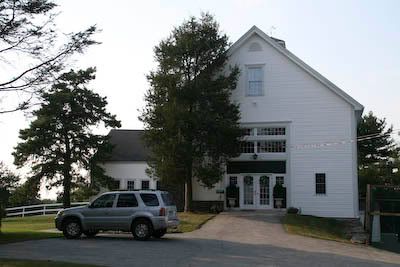 Our bathroom is a luxury retreat that includes a large Jacuzzi tub, a small electric fireplace stove and sparkling white finishes. We quickly find out that Bill did plumbing and contracting in a previous career.
 It's a weekday just after Labor Day, so we're the only guests at the inn for the moment. Bill is willing to show us the rest of the rooms in the inn, and we quickly take him up on the offer to tour the entire property. Seeing the custom touches that make each room and suite so unique leaves no doubt as to why the inn is on the prestigious Select Registry and carries a four-diamond AAA rating.
On-site amenities include an outdoor swimming pool, tennis court, spacious grounds and a large recreation room featuring ping pong and pool tables, as well as a large plasma screen television. But, a large rack of brochures about local attractions, coupled with Eleonora and Bill's expertise in helping countless visitors plan fun and interesting stops around the area, leaves us with the dilemma of what to do first?
We contemplate our options over the cheese plate and beverages Bill offers us (something available to inn guests each evening).
Historic Jacob Hill Inn sits on a quiet road just minutes outside of downtown Providence, Rhode Island, offering the best of both worlds--a quiet country retreat near a bustling big city.
Each day at the inn starts with a hearty breakfast featuring selections like fresh fruit and pancakes stuffed with fruit jam and cream cheese. Eleonora and Bill then help us plan our days, offering us printed driving directions for many of our destinations, making dinner reservations, suggesting places to dine while we are out during the day and helping us decide where to go.
We visit the Museum of Art at the Rhode Island School of Design, wander around campus at Brown University, photograph homes and churches along Providence's historic Benefit Street, drive down to Cape Cod and enjoy a massive lobster roll for lunch at The Dan'l Webster Inn, enjoy a great Italian meal at Zooma in Providence's historic Federal Hill area and spend a day at the Mayflower II and Plimoth Plantation.
Hot, humid days during our stay make me especially appreciative of the inn's swimming pool, a rarity I've seen at very few B&Bs and country inns. Even as Tropical Storm Hanna tripped through the area one night, Bill was out early the next morning clearing the spotlessly maintained pool of any storm debris so I could enjoy my swim later that afternoon.
While the impressive property gives the inn an air of genteel, yet comfortable formality, the hosts' warm hospitality adds to the inn's homey and relaxed vibe.
My visit ends all too quickly with a hug from Eleonora and Bill's urging to "keep in touch!"
© Dominique King 2008 (updated 2020)