George Freeman wondered if the young man asking for his daughter's hand in marriage was worthy of her. He asked to see the ring, and then carefully etched her proposed initials with it into a glass window pane in an upstairs bedroom of his home. He now knew the diamond was a real gem, and gave permission to his daughter to marry her young man.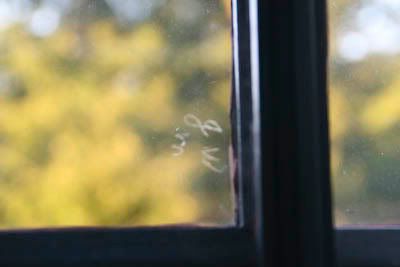 That early 20th century story is just one of many tales Daniel Rust House innkeepers Cathy Mitchell and Germaine Salvatore shared with us as we checked into the Mary Rose room at their bed & breakfast in Coventry, Connecticut.
Daniel Rust and George Freeman are just two of a long succession of owners who occupied the home, originally built as a small Cape Cod style structure in 1731.
By 1748, wealthy farmer Jehiel Rose purchased the house and added on to it. Our spacious bedroom bears his wife Mary's name.
By 1800, the home became the Bird-in-Hand Inn and experienced fluctuating fortunes before our gregarious innkeepers, Germaine and Cathy, purchased it in 2007.
The pair revitalized the inn, furnishing it with antiques, restoring the grounds and gardens, pampering guests and welcoming them as part of the family.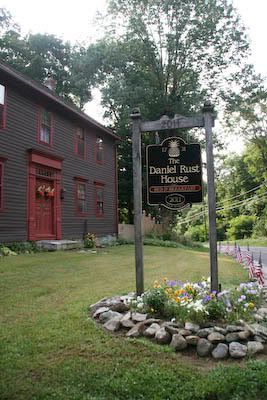 The Daniel Rust House sits on a fairly busy highway, but the small-town setting and expansive back yard offers guests a serene retreat with deer and fox regularly visiting the grounds and a wooded walking trail leading out from the inn's yard.
The history surrounding the inn and Coventry countryside drew us to book the Daniel Rust House for five days, but the warmly welcoming atmosphere created by Cathy and Germaine really sold us on this gem of a bed & breakfast.
…and the breakfasts!
Germaine's breakfasts started with a fresh fruit course like melon or peach soup, mango pudding or fruit parfaits. Next came a hearty helping of pumpkin pancakes, blueberry pancakes made with fresh berries from a neighbor's yard or pancakes stuffed with raspberries. Cathy often whipped up an egg dish like eggs scrambled with fresh pesto or eggs combined with mozzarella, ham and dill.
A different set of vintage china served as the setting for the morning breakfast show, which sent us rolling out of the dining room with no need to eat until dinnertime…if even then!
When we did venture out for a full dinner at the Altnaveigh in nearby Storrs, that inn's owner jokingly told us to let Germaine know their lunch business was suffering because Daniel Rust guests were never hungry for lunch!
The Altnaveigh is, unfortunately, no longer open as of 2020
Cathy and Germaine recommended the Altnaveigh for dinner and made reservations for us. The Altnaveigh, an inn and restaurant housed in a restored 1730s home, was a romantic spot and perfect place for a special dinner.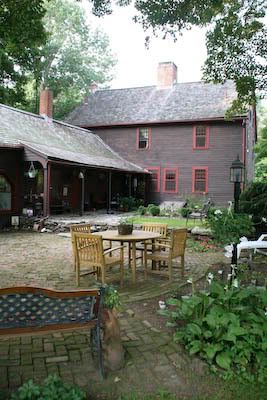 Evenings at the Daniel Rust House offer guests the option of relaxing in their rooms, or joining Cathy, Germaine and other guests in the common areas. One evening, we sat in front of the keeping room's fireplace chatting with our innkeepers while enjoying the company of one of the inn's canine guests.
With an extensive background in dog grooming and care, Cathy and Germaine offer accommodations for well-behaved dogs, as well as daycare and grooming services. One dog visited with owners in town for an athletic event at the University of Connecticut one day we stayed at Daniel Rust House.
We visited nearby attractions like the university, the Nathan Hale Homestead and the Prudence Crandall Museum. Mystic Seaport was an easy day trip.
My only complaint is that Coventry isn't closer to Michigan so visiting Cathy and Germaine would be a possible weekend destination for us.
© Dominique King 2008 (updated 2020)