Tim and I checked into the Inn at Cedar Falls, drove up to our cottage and immediately felt a strong jolt of recognition.
We were not mistaken in our feeling of déjà vu because, by chance, we stayed in same cottage a half dozen years earlier. The Bluebell cottage retained the same comforting air of secluded serenity as it did during our previous visit, so we knew our long weekend of relaxing was off to a good start.
It may seem like the Inn at Cedar Falls lay nestled in southern Ohio's Hocking Hills region forever, but the quiet retreat only became a reality during the mid-1980s after a woman named Anne Castle enlisted an army of friends to help her establish the serene retreat in a couple of 1840s log homes that house the inn's kitchen and dining area and a barn-like building with nine guest rooms.
Today, Castle's daughter Ellen Grinsfelder, and Grinsfelder's husband Terry Lingo, are the innkeepers, and the Inn belongs to The Select Registry. 
Over the years, the inn expanded to include a dozen cottages like our Bluebell, five cabins with full kitchens and a spa.
Staying in a guest room at the main inn is nice, but we enjoy driving up the wooded lane and staying in the secluded cottages. The main inn offers closer proximity to the garden and dining area, but the nearby cottages, tucked into the woods, offer the real sense of quiet solitude we enjoy.
Roomy decks with gliders and rockers are a private place to enjoy reading a good book or having a glass of wine. If it's slightly cooler, switching on the tiny gas stove inside the cottage and curling up in the upholstered rockers with a good book is particularly cozy.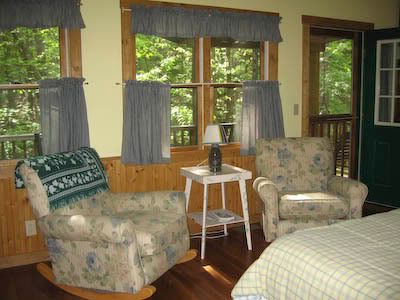 The Inn is a bed and breakfast, so each day begins with a full meal in the dining room. Omelets, stuffed pancakes, waffles…breakfasts are particularly hearty, and the best way to start the day if you plan full days of hiking and taking photos in nearby Hocking Hills State Park.
We also like to reserve a dinner date at the inn at least once during each stay.  The menu stresses the use of seasonal, local and fresh ingredients, and the log-cabin dining area is a romantic dinner site.
Innkeepers at Cedar Falls always stressed their emphasis on providing a retreat from the everyday noise and annoyances of the city. There is a pay phone by the inn's office, but there are no phones in the rooms and cell phone use is discouraged. The Inn began offering access to free WiFi in recent years, with access in the main inn's guest rooms and a common room in the main building available to all guests.
We were just as happy, however, to enjoy our secluded cottage retreat while hoping it won't be another half dozen years before we can visit Inn at Cedar Falls again.
© Dominique King 2008(updated 2020)