I found this photo while sorting through my files to find pictures to go with my Dream Cruise posts, and I thought it made a prefect subject for a Photo Friday post.
Links and info within story updated 2020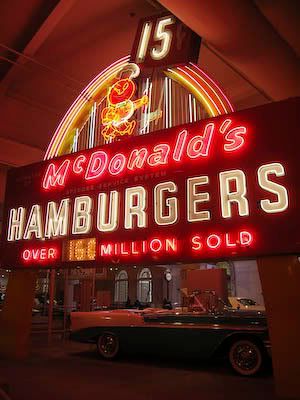 This 1960-vintage McDonald's sign is in the Driving America exhibit at The Henry Ford Museum in Dearborn, Michigan.  The exhibit, created in 1987, displays many of the museum's vintage vehicles alongside artifacts related to automotive life and travel.
McDonald's kept this particular sign up at its original location on John R in Madison Heights, Michigan long after other area McDonald's installed more modern versions of the golden arches. I always enjoyed driving by this sign, but was happy to see it go somewhere that I could continue to enjoy seeing it when the John R McDonalds finally decided to modernize their sign.
Thanks to Debbie Dubrow of Delicious Baby for creating and coordinating this effort to link travel photos and blog posts across the Web.
© Dominique King 2008 (updated 2020)