Classic car enthusiasts eagerly anticipate each annual Woodward Dream Cruise, but as with any event drawing more than a million people and streams of exhaust-belching vehicles, it can be crowded, noisy and smelly to headache inducing levels. There are many classic car owners who find driving the route too taxing on their vintage engines, preferring to rent pricey space along the avenue for the weekend of the event, parking and watching the passing show.
Here are a couple of my favorite cruise-related events that offer a closer view of the "classic car culture" experience and a way to really enjoy the spirit of the Dream Cruise.
The small town of Clawson, a couple miles east of Woodward Avenue and a half-dozen miles north of Detroit, likes to do things in a big way.
Clawson began closing Main Street for a half-mile stretch through town the Saturday before the official Dream Cruise ten years ago to stage their first "Down on Main Street" car show. Hosted by the Clawson Lions, with promotional assistance from the Clawson-based United Street Machine Association, the show draws more than 500 classic cars. The car show registration fees go to charities benefitting disabled children and adults.
We love walking up to Clawson from home and strolling along Main Street, stopping to admire some of our favorite cars, taking photos and talking to the owners.
Some owners display scrapbooks and photo albums detailing the meticulous restoration of their vehicles. Others display a more puckish sense of humor by decking their cars out with drive-in restaurant trays or dolls dressed in leather jackets, peering into their car's engine.
Fundraisers are a big part of the Dream Cruise experience and another of my favorite events is the Champagne Cruise benefitting Forgotten Harvest.
Forgotten Harvest addresses the dual problems of hunger and waste by arranging to pick up surplus food from area grocery stores, restaurants, caterers and other commercial food businesses and delivering those donations to area soup kitchens and to others in need.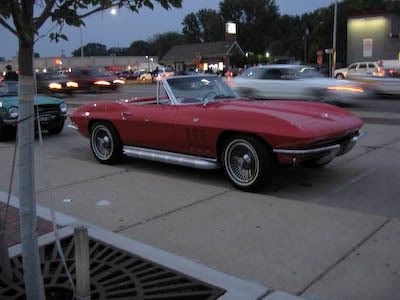 The Champagne Cruise offers a more elegant way of watching the cars from a prime Woodward location while sipping champagne, dancing to the music of an oldies cover band and chowing down on an array of food from Detroit-area restaurants and the event host, Westborn Market, in Berkley (Michigan). Even as the event is a relatively high-ticket fundraiser at $150 per person, the vibe is distinctly laid-back and the money supports Detroit's well-regarded mobile food rescue operation.
© Dominique King 2008