I don't recall encountering a carrot cake I didn't like.
I'm not a huge chocolate fan, and I don't always have dessert with a meal, but the one menu item that makes it difficult for me to resist ordering dessert is carrot cake.
I've heard people insist that carrots don't belong in cake or any other sweet dish.
I don't care. I love carrot cake.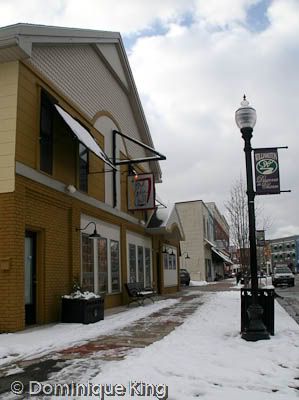 So, when we first stopped for dinner at the Red Cedar Grill in quaint small-town Williamston in mid-Michigan, and I spotted "awesome" carrot cake on the menu, I decided I needed to save some room for dessert.
This proved to be a fairly tough proposition as the Red Cedar menu contains elegant versions of many comfort food favorites, including: macaroni and cheese with chicken, as well as jack, smoked Gouda and asiago cheeses; slow-roasted pot roast; and meatloaf containing a mix of ground beef and turkey glazed with barbecue sauce.
Starters include "yesterday's soup, always better the second day"; calamari fritti with a lime and chili aioli dipping sauce; and a roasted garlic platter more than large enough to share.
We've never had a bad meal at the restaurant and usually have some leftover entrees to take home.
I remember eating our first dinner at the Red Cedar and overhearing the four diners at a neighboring table each order a piece of carrot cake for dessert. Their server quickly assured them that one piece of the cake, two pieces tops, might be enough for all four of them to share.
This piqued my curiosity.
When the same server came to our table to ask if we wanted dessert, I asked about the carrot cake. Our server assured me that one piece was more than enough for Tim and me to share and that this was, indeed, a cake among cakes.
That sealed the deal.
By now I was seriously lusting after this carrot cake, which the menu describes as "famous for lots of reasons" and adds that it "feeds a small army".
Our slab o' carrot cake soon arrived, and as billed, it was seriously huge. It was sweet, dense, moist, and chock full of nuts and raisins. Our server didn't lead us astray as there was more than enough cake for each of us to have a good-sized piece of cake plus take half of it home with us to enjoy the next day.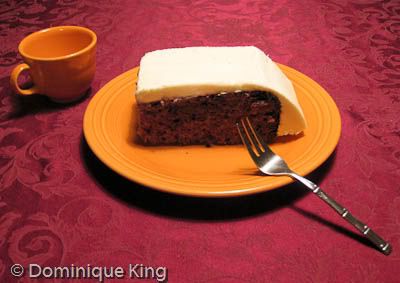 Yes, this cake among cakes sits on a dinner plate and dwarfs the coffee cup sitting next to it in the photo here. It is that huge.
I figure a piece of cake large enough to divide into four desserts that costs around $8 is a great deal. Four desserts that tasty is a serious steal!
We live about 70 miles east of the Red Cedar Grill in Williamston, but it's become a regular stop whenever we head west towards the state capital in Lansing or, more often, as we're heading towards home after a trip Up North and want one last nice dinner before we go home and go back to work.
We've stopped by many times since that first carrot cake encounter—sometimes for dinner, and sometimes simply stopping in for a slab o' carrot cake to go.
© Dominique King 2009