"Your room is haunted!"
The occupant of Room 11 looked blearily startled at his breakfast companion's greeting.
Room 11 was one of a block of rooms reserved at the Pilgrim House Inn for a group of friends visiting Newport, Rhode Island for a special event. Room 11's occupant may have briefly wondered if partying with the group the previous evening led to an unpleasant morning after, complete with reports of seeing and hearing non-existent things.
Or maybe he dimly remembered an encounter with the spirit of Jessica, the little ghost girl who is the Pilgrim House Inn's most storied guest.
Jessica's mischievous spirit supposedly haunts this charming bed and breakfast inn located in Newport's Historic Hill district, drawing visitors and ghost hunters anxious to catch a glimpse of her.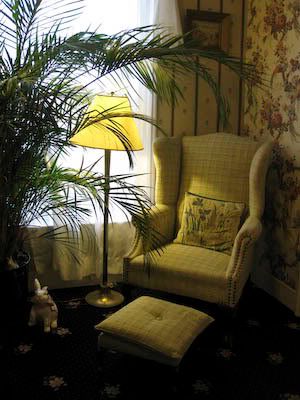 The three-story home, built in the late 1700s as a single-family residence, sits tightly tucked into a row of buildings of similar vintage.  The home later saw use as apartments for Navy families living in the historic harbor town and as overnight accommodations for dockhands, merchant marines and visiting fishermen.
The inn's current keepers, Barry and Debbie Fonseca, took over ownership of the bed and breakfast in 2000 and became keepers of the house's ghostly legacy.
I asked Barry about Jessica, and he said he's yet to encounter her spirit. However, he said a group of "professional ghost hunters" visited the inn during January 2008 and reportedly detected some sort of image on the inn's stairway.
Author John T. Brennan shares several stories of Jessica sightings in his 2007 book, Ghosts of Newport: Spirits, Scoundrels, Legends and Lore.
Brennan said Jessica seems to relish playing practical jokes like buzzing intercoms in empty rooms, playing a music box in the middle of the night or slamming a clothes dryer door and turning the dryer on. One group taking a Ghost Walk tour of the town reported seeing a little girl in an old-fashioned dress standing at the foot of the inn's stairs, when there were no children reportedly staying at the inn that evening.
Most activity seems to center on the third-floor Room 11 and the second-floor Room 8. Read some of the guest books in various Pilgrim House Inn rooms to see guests' reports of experiencing Jessica's presence.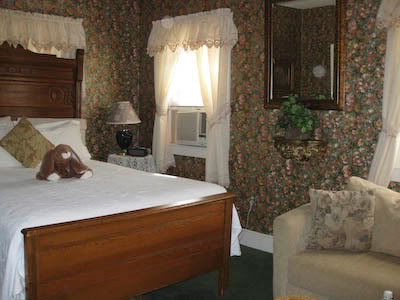 We didn't encounter Jessica during our five-night stay at the inn, but we did encounter many of the Pilgrim House's most numerous guests: the innkeeper's rabbit collection.
Barry told me that his father-in-law, in an effort to draw attention to his house painting business during a slow time, drew bunny outlines on buildings as he painted them. The house painter's daughter, innkeeper Debbie Fonseca, began collecting rabbits. The rabbit collection quickly multiplied (no surprise when it comes to bunnies, I guess) until bunnies now occupy nearly every corner of the inn.
A bunny guarded the door to our room, bunnies sat in the quiet reading nooks on the inn's second and third floors, another sat on our bed and bunnies proliferated throughout the house.
Does Jessica play with the bunnies?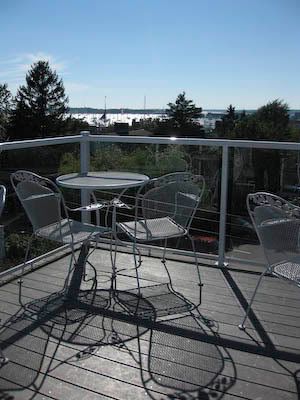 They weren't telling, and it was difficult to imagine seeing a ghost as we enjoyed our breakfast that sunny September morning on the inn's third-floor deck, with its beautiful view of Newport Harbor.
Meanwhile, Mister Room 11 didn't seem to have any tales to tell, which disappointed his friends. But other Pilgrim House Inn guests and visitors believe that the spirit of little Jessica is very real and wonder if that little shadow they glimpsed on the stairway could be the inn's most notorious, and perhaps most well-loved, guest.
© Dominique King 2008